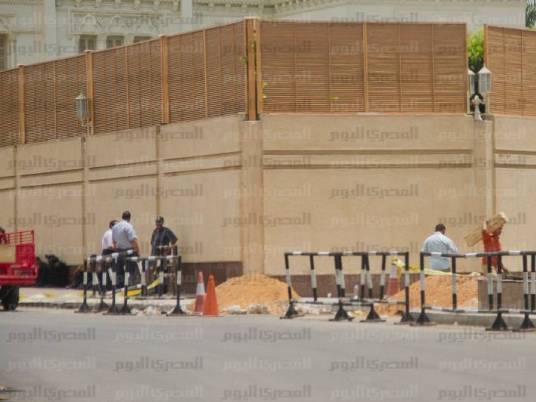 The Interior Ministry is bracing for possible violence on June 30, as opposition groups gear up for protests demanding early presidential elections.
Security sources, speaking to Al-Masry Al-Youm on condition of anonymity, said Saturday that Republican Guards will block 14 streets close to the Ettehadiya presidential palace with barbed wire and concrete blocks one week ahead of planned rallies.
Tanks will also be deployed in the surroundng area as part of a security clampdown drawn up by ministry officials.
"Leaves for all conscripts will be cancelled until the end of protests," the source revealed. "Security officers have been directed not to take on protesters or shoot at them even in case of clashes with Central Security Forces, as long as demonstrators remain away from the palace's gates."
"If protesters enter the palace premises, they will be faced with water cannons and warning shots."
Although ministry plans have been in place since 2009, the source said, it was doubtful that protesters would make it inside the Ettihadiya walls.
Forces stationed inside would stand ready to "confront and deter" up to two million individuals, the source claimed.
Pro-Morsy Islamist supporters have responded to calls for early presidential elections by opposition groups, led by Tamarod, by vowing to defend the president throughout rallies.
However on Thursday, Muslim Brotherhood officials claimed activists would only defend branch offices.
Brotherhood spokesperson Jihad Haddad stressed Islamist supporters would not clash with opposition groups.
The Freedom and Justice Party's Mohamed Heshmat meanwhile downplayed the significance of the June 30 protests, amid growing concerns over the possibility of violent anti-government clashes.
"The media is exaggerating the matter," he said. "Those demonstrations are the last chance for remnants of the former regime to realise that their plan to overthrow the president will not succeed."
Edited translation from Al-Masry Al-Youm