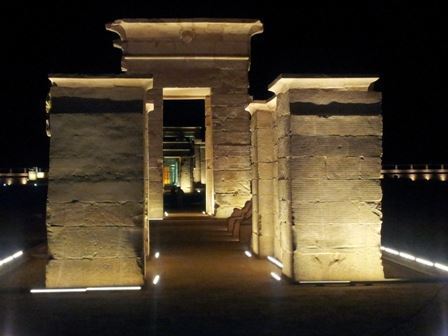 Antiquities Minister Mamdouh al-Damati is reopening the Hibis temple in the Kharga Oasis on Thursday for tourists after completing restoration work.
The temple's restoration, which began in 2005, cost LE71.65 million.
"We protect our cultural and civilizational heritage to present to the future generations as their forefathers had built it," the minister said. "We also aim to put more sites on the global tourism map."
For his part, Waadallah Mohamed, head of the Antiquities Ministry's Projects Department, said studies for the restoration of the temple started in 1999. "We started by building a wall 80 cm wide and 13 m deep to prevent the leakage of water to the foundations of the temple," he explained, adding that the temple was restored on location and not removed. "And we have replaced the damaged floors with sandstone, which is similar to the stones used in the rest of the temple."
He added that the inscriptions and murals were also restored, the cracks in the walls were filled and the damaged columns and cornices were remolded.
Mahmoud Afifi of the Antiquities Ministry said a hall was built on 1,000 square meters near the temple to receive visitors and surveillance cameras and fire detectors were installed. "All the corridors were cleaned for visitors to walk in," he said.
Bahgat Ibrahim, general manager of the Kharga Oasis monuments, said the temple is the only one remaining from the 26th dynasty. "Hibis is the old name of Kharga," he explained. "It was built for the holy trinity of the gods Amun, Khonsu and Osiris."
Edited translation from Al-Masry Al-Youm