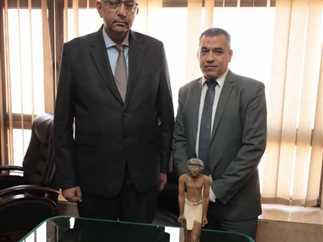 On Sunday, the Assistant Foreign Minister for Cultural Relations, Omar Selim, handed over two artifacts, retrieved from Belgium after being illegally smuggled out of Egypt, to a committee from the Ministry of Tourism and Antiquities.
The two artifacts are: a painted wood statue of a man standing on a base from the Old Kingdom; and another small statue of "ushabti" made of wood from the Late Period of Egypt.
The Belgian authorities seized the two smuggled statues in 2016 at an exhibition for the sale of antiquities in Belgium.
Investigations proved that the owner of the exhibition did not have ownership documents for the two antiques.
The Ministry of Tourism and Antiquities, with judicial assistance, then requested from Belgian authorities to return the two statues.