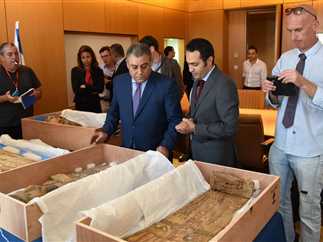 The Israeli Foreign Minister, Yair Lapid, will return to Egypt about 100 stolen antiquities that were confiscated during a smuggle attempt to Israel, Hebrew media reported.
According to the Yedioth Ahronoth newspaper, Lapid will return the stolen artifacts to Egypt during his visit to Cairo scheduled for the end of this week.
The newspaper added that the stolen Egyptian artifacts include parts of hieroglyphic stone inscriptions, a part of a wooden sarcophagus with Egyptian inscriptions, and inscriptions on papyrus, as well as statues of ancient Egyptian deities.
The website of the Hebrew newspaper stated that the first batch of these artifacts was confiscated in March 2013, after an attempt to smuggle it into Israel was thwarted, while another batch was confiscated in August of the same year.
The Israeli website added that the Israel Antiquities Authority notified the Egyptian authorities of these artifacts through Interpol, stressing that at the request of the Egyptian authorities, the Israel Antiquities Authority opened an investigation into the incident, upon which 91 artifacts were confiscated.
In September 2020, the Hebrew newspaper "Maariv" revealed that the former Israeli Chief of Staff Moshe Dayan, has been engaged in stealing Egyptian antiquities in Sinai.
Israeli journalist Ido Dezentik said at the time that his father, who was the editor of Maariv newspaper, has caught while serving in the Israeli reserve forces, Dayan while stealing antiquities in Sinai, adding that Dayan supervised the excavation work to discover the antiquities and then send it to his home in Tel Aviv, according to Russia Today.
According to the same source, Dayan was excavating in search of antiquities in the archaeological area of ​​Serabit al-Khadem, which is located southwest of Sinai, about 80 kilometers from the city of Abu Zenima.
Dezentik said that his father told him that he did not publish materials about Dayan's theft of antiquities from Sinai on the pretext that Israel needed it, and that he supported Israeli hopes. He added that Maariv newspaper did not write about Dayan's thefts until 1981, after his political retirement.
When Israel occupied Sinai for the first time in 1956, it stole antiquities from Serabit al-Khadem, where the stolen antiquities shipped to the Antiquities Department in occupied Jerusalem, according to the Israeli newspaper.
According to previous Hebrew reports, the Israeli museum in Tel Aviv displays Egyptian antiquities including necklaces and statues made of pure gold in a corner dedicated to Egyptian antiquities that includes 700 artifacts.
These antiquities are estimated at millions of dollars dating back to the twelfth and thirteenth centuries BC and others to the nineteenth century BC.
The newspaper pointed out that among the antiquities to be displayed in the museum is the sword of the Pharaonic King Tutankhamun, known as the "Sickle Sword".
The newspaper said that the former Israeli Prime Minister Menachem Begin gifted an exact copy of the sword, which was found in Palestine, to former President Anwar Sadat, during his first visit to Cairo, in 1979, and wrote on the sword cover: "So that war does not break out again."