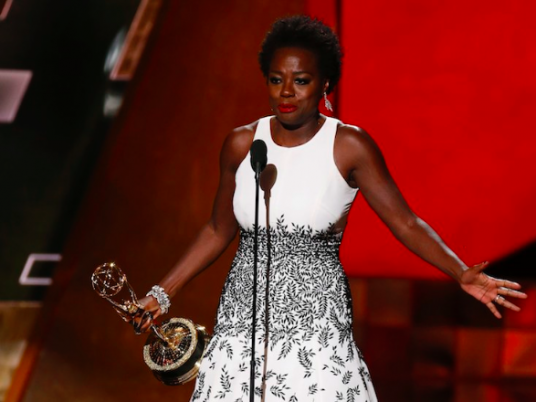 Viola Davis made Emmy history on Sunday when she won the award for best actress in a drama series, becoming the first black woman to take the honor in the prestigious category.
Davis, who triumphed for her starring role as law school professor Annalise Keating in ABC's "How to Get Away with Murder", gave an emotional speech as she accepted the honor.
"The only thing that separates women of colour from anyone else is opportunity," she said.
"You cannot win an Emmy for roles that are simply not there."
Two of the six nominees in the category were black: as well as Davis, there was Taraji P. Henson, who plays hip-hop matriarch Cookie Lyon on Fox's music melodrama "Empire".
But it was Davis, who was nominated for a Golden Globe for the role, who took the award at the 67th Emmys, television's equivalent of the Oscars.
Accepting her prize at the Microsoft Theater in Los Angeles, the 50-year-old Davis evoked the spirit of African-American freedom fighter Harriet Tubman.
As a middle-aged African-American actress, Davis has spoken often of her frustration at casting directors who are unable to see past the colour of her skin.
"In my mind, I see a line. And over that line, I see green fields and lovely flowers and beautiful, white women with their arms stretched out to me over that line, but I can't seem to get there no how. I can't seem to get over that line," she said Sunday.
"That was Harriet Tubman in the 1800s."
She thanked series creator Peter Nowalk, executive producer Shonda Rhimes and others, calling them "people who have redefined what it means to be beautiful, to be sexy, to be a leading woman, to be black".
She also name-checked several of her black peers, including Henson, history-making Oscar winner Halle Berry and "Scandal" star Kerry Washington in her stirring speech.
Race has been a hot-button topic in Hollywood, particularly in the wake of the startling lack of non-white nominees at the Oscars earlier this year.
Emmys host Andy Samberg touched on the hugely sensitive topic at the start of the awards gala, saying to applause: "The big story this year, of course, is diversity. This is the most diverse group of nominees in Emmy history."
He quipped, to laughter from the audience: "So congratulations, Hollywood, you did it. Yeah. Racism is over – don't fact-check that."
Another prominent African-American woman winner on the night was a tearful Uzo Aduba, who took the best supporting actress in a drama prize for her role in "Orange is The New Black".
And veteran black actress Regina King won an Emmy for outstanding supporting actress in a limited series or movie for her role on ABC's "American Crime".
It has been a long road to awards glory for Davis, a two-time Oscar nominee who remains wary of life in the Hollywood limelight.
"I am not a glam woman – this definitely is a mask I put on for the public," she once said.
"My biggest fear is that a paparazzi or someone… is going to come in my backyard and see me when I get in my pool. That would be very unfortunate."
Davis, who was born in August 1965 on her grandmother's farm in South Carolina, has described herself as "a young girl who grew up poor who dreamed the biggest dream and didn't know if she was going to see it to fruition."
Primarily known for her theatre work until recently, Davis grew up in Central Falls, Rhode Island, where her father was a horse trainer and groomer.
Her acting talent earned her a scholarship to the state's Young People's School for the Performing Arts, and after majoring in theatre at Rhode Island College, she studied at the prestigious Juilliard School in New York.
In 2009, she was nominated for the Oscar for best supporting actress for her role in "Doubt", playing alongside Meryl Streep as the mother of a son who has an ambiguous relationship with the principal at his Catholic school.
Prior to that recognition, Davis won a Tony Award in 2001 for her performance in "King Hedley II", where she played a woman in her mid-30s seeking an abortion.
Over the past decade, Davis has landed bit parts in a series of critically acclaimed films, most notably "Traffic", "Out of Sight", "Antwone Fisher", "Syriana", "World Trade Center" and "Disturbia".