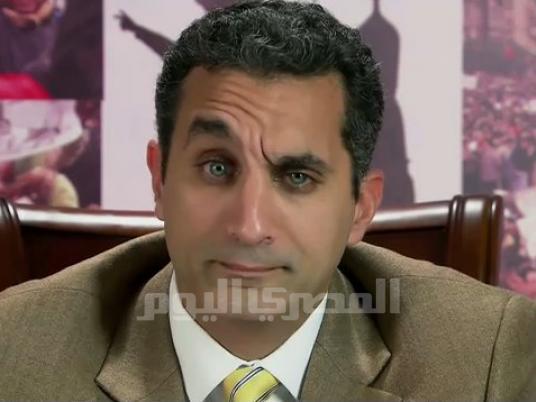 Egyptian political satirist Bassem Youssef has signed a production deal with international media company Fusion to host a new digital series entitled "The Democracy Handbook" for the digital platform F-comedy.
The show will kick off in the spring of 2016 and be showcased on Fusion's platforms as a part its US presidential elections coverage. "The Democracy Handbook" follows Youssef's journey to the United States to learn about democracy with the hope of bringing the political system to the Middle East, but he will discover that democracy is not as great as he imagined.
Bryan Carmel, Fusion's head of comedy, said "Bassem is one of the world's most astute and therefore dangerous satirists, he knows how to get people fired up about important issues; we can't wait to see what he learns about American democracy during this unique election year."
Youssef, dubbed the John Stewart of the Arab World, expressed his interest in hosting the interesting project and said he is extremely honored to partner with Fusion, considered one of the world's biggest digital platforms.
"Discussing, exposing and satirizing the political scene here in the United States is something I am very excited about and hopefully I will be able to get Fusion in trouble along the way. Between issues like guns, white supremacist militias and Donald Trump, I am certain we won't be lacking in any material," Youssef told a Hollywood reporter.
In November 2015, Youssef hosted the International Emmy Awards in New York City and became the first Arab to host the prestigious international awards ceremony.
While his first profession was being a cardiologist, he is considered one of the most controversial TV presenters in the Middle East after successfully introducing the concept of political sarcasm to Egypt during his show AlBernameg's three-year run. AlBernameg quickly hit a record and became the most watched show on TV.
Despite the show's success, in 2014 AlBernameg was suspended after the government put pressure on MBC Masr channel to halt the show during presidential elections.
Youssef is a resident fellow at the Harvard Institute of Politics at the John F Kennedy School of Government. In April, he received the Silver Medal for Best TV Host in the World at the 2015 New York Festivals.