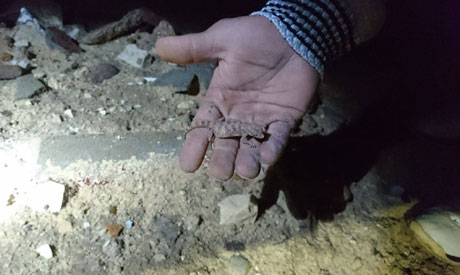 After a severe raining for the past week, Egypt's Ministry of Environment issued a statement on their Facebook page warning people that "unusual" animals might have escaped from the Petrified Forest nature reserve in eastern Cairo due to the partial collapse of an enclosure wall at the forest.
The ministry called upon residents to report any  unusual animals if they stumble upon them near their neighboorhood.
"The Ministry of Environment calls for the immediate reporting of any unusual creatures in residential areas, especially in the area around the Petrified Forest Reserve in New Cairo," the ministry stated in a statement published on its official Facebook page on Thursday.
The ministry stressed it has taken precautions by employing zoologists to scan the vicinity and determine which animals escaped from the preserve.
The Petrified Forest nature reserve in New Cairo, Egypt, April 26, 2018 (Photo: Official Facebook of Egypt's Ministry of Environment)
"The search found no traces or presence of any type of reptiles along the boundaries of the reserve, especially in the areas of collapse of the fence, where reptiles may exit from."
However, white ants have escaped the reserve. Most of them, though, were found and captured just outside the fence.
Renewed searches around the reserve are planned for Saturday, the ministry added.
Flash floods caused by the downpour on a street near the Petrified Forest nature reserve in New Cairo, Egypt, April 26, 2018 (Photo: official Facebook five days, Egypt's Ministry of Environment)
The exact weight of losses caused by the rain is set to be determined through a technical committee. The committee will also set a time frame for the repair work.
In the meantime, work is also underway to fix another natural reserve, Wadi Degla, in the southern suburb of Maadi. Workers have began re-paving the road leading to the reserve after several sections were destroyed by the heavy rain, the ministry said.
Over the past  five days, New Cairo has been flooded by an unexpected wave of severe rains, leading to flooding of roads, apartments, in addition of the shut down of major highways.
The event has caused outrage among some Egyptians, and had led President Abdel Fattah Al-Sisi to express expressed his sympathy on Thursday to the suffering of Egyptians in the aftermath of the weather and promised that the government will increase its efforts to avoid such damage from occuring in the future.