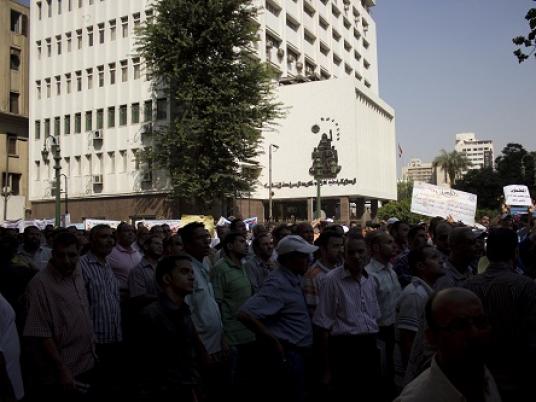 The escalation of teachers' protests dominates the headlines of both state-owned and independent paper's front pages Tuesday.
Independent daily Youm7 writes that thousands of teachers have announced an open-ended strike on Monday outside the Cabinet until their demands are met.
Their demands include setting LE3,000 as a minimum salary for educators, a voice in the Constituent Assembly and increasing the education budget to 6.5 percent of national income.
Small-scale protests sprang up the last two days, primarily outside the Ministry of Education in Cairo and the Cabinet. However, teachers from numerous governorates Monday joined their colleagues, paralyzing traffic on Qasr al-Ainy Street.
According to state-owned daily Al-Ahram, a presidential decree was announced in response on Monday by Education Minister Ibrahim Ghoneim, which approves a LE100 increase only in basic salary, saying the ministry would provide the money from its own budget without burdening the state.
The decision, however, was met with objection and outrage, and described as an "analgesic" by protesters to abort their strike, the report adds.
Predictably, only a hint of President Mohamed Morsy's decree was highlighted in Freedom and Justice, the mouthpiece of the Muslim Brotherhood's political arm, turning a blind eye to the ongoing popular anger against the government's stance towards the teachers' plight plight.
The same newspaper reports that a gasoline shortage has hit Egypt again after a short-term stability. According to an anonymous source in petroleum industry, the country is witnessing an acute fuel shortage, which has caused long queues of vehicles in front of gas stations. The crisis is reportedly expected to get worsen as gasoline supply has fallen to 33,000 tons from 40,000 tons a day.
On its second page, independent daily Al-Shorouk writes that the so-called "eye sniper" trial is postponed until 3 October in order to hear testimony and consider the forensic medical reports of alleged victims.
Police officer Mahmoud Sobhy al-Shenawy is accused of attempted murder for allegedly killing peaceful protesters and aiming for their eyes during the Mohamed Mahmoud Street clashes that took place in front of the Interior Ministry last November.
Egypt's highly controversial parliamentary elections still manage to find a space on dailies' front-pages. Youm7 paper quotes Abdel Moneim Abdel Maqsoud, the Muslim Brotherhood lawyer, as saying that he expects the administrative court to order the reelection of candidates running for individual seats only, which has long been a hotly debated topic. He ruled out the possibility of electing an entirely new People's Assembly, as no lawsuits were filed against the rest of the parliamentary seats.
Privately-owned daily Al-Tahrir allocates an almost entire page for an interview with Minister of Religious Endowments Talaat Mohamed Afify Salem, running an eyebrow raising headline, "We will allow mosques to be used in guiding people to the suitable [candidates] in elections."
Salem assured that imams would be permitted to urge Egyptians to participate in parliamentary polls and to choose the candidate whom they see the most capable to represent them in the People's Assembly, but without adopting a bias towards any particular candidate or party.
Former President Hosni Mubarak's old regime was categorically against any form of politicking in mosques, believing in the necessity of isolating Islam from politics. After the 25 January revolution and the rise of Islamists on the political scene, however, some presidential candidates have used mosques as a tool to promote their platform.
Finally, the recent-established privately owned daily Al-Watan publishes the outcome of a meeting between Essam al-Erian, vice chairman of the Freedom and Justice Party; Saad al-Katatny, head of the now-dissolved People's Assembly; and an American delegation on Egypt's current political and economic situation. The paper quotes Erian in a press conference pointing out the important issues discussed during the meeting, "The Constituent Assembly would comprise all segments of political forces, without being monopolized by [any] specific trend." He also stressed that the country's political atmosphere would be suitable to fuel American investment in the near future.
Egypt's papers:
Al-Ahram: Daily, state-run, largest distribution in Egypt
Al-Akhbar: Daily, state-run, second to Al-Ahram in institutional size
Al-Gomhurriya: Daily, state-run
Rose al-Youssef: Daily, state-run
Al-Dostour: Daily, privately owned
Al-Shorouk: Daily, privately owned
Al-Watan: Daily, privately owned
Al-Wafd: Daily, published by the liberal Wafd Party
Youm7: Daily, privately owned
Al-Tahrir: Daily, privately owned
Freedom and Justice: Daily, published by the Muslim Brotherhood's Freedom and Justice Party
Sawt al-Umma: Weekly, privately owned
Al-Arabi: Weekly, published by the Nasserist Party
Al-Nour: Official paper of the Salafi Nour Party