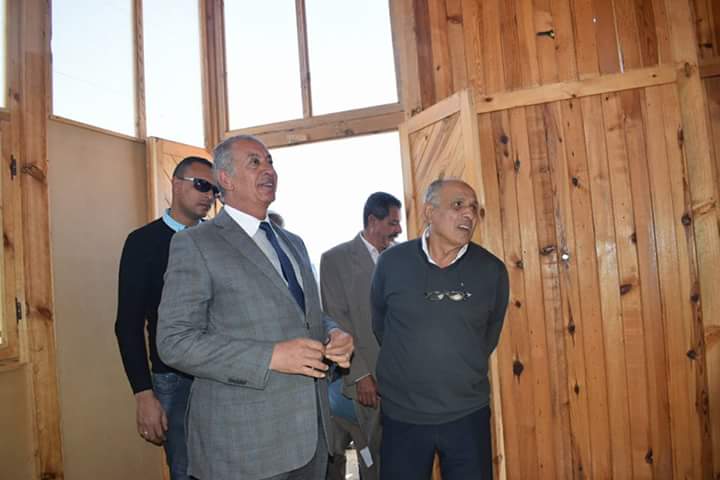 Red Sea Governor Ahmed Abdallah has handed over 18 wooden eco-friendly houses to the people of al-Qalaan village, south of Marsa Allam, on Monday within the celebration of the governorate's National Day.
The eco-friendly houses match with the terrain of Marsa Allam, which contains several Mangrove trees and a gulf, Abdallah said.
He added that the houses were built through cooperation between the governorate and the General Authority for Tourism Development.
Abdallah clarified that the housing project contains a water purification plant, sewage network and solar power network, which will make the village the first sustainable eco-village throughout the country.
The Red Sea governorate, Ministry of Environment, and Heya Foundation for Development and Family participated in the reconstruction of the village, turning it into a comprehensive eco-village to attract tourists and increase its sources of income. The total cost of the project was LE 3 million.
The village is located at Wadi al-Gamal National Park, 80 kilometers south of Marsa Allam. The village is famous for its mangrove trees and being an attractive area for tourists, especially those celebrating their birthdays on the village's beach.
Egypt is keen on having eco-friendly hotels as part of its sustainable development goals, Tourism Minister Rania al-Mashat said in December 2018. For hotels established under the term "Green Destinations", the ministry has set standards that comply to certain rules when it comes to energy consumption, water consumption and the reduction of emissions.
Egypt has been a pioneer in the field of eco-friendly hotels in the Middle East by setting environmental standards for its tourist hotels; however, the seven-year decline in Egypt's tourism sector has led other countries like the UAE to outperform Egypt's efforts.
In July 2018, Egypt's Environment Minister Yasmin Fouad said that the Red Sea resort city Sharm al-Sheikh will soon be announced as an environmentally friendly green city.
Fouad explained that the United Nations Development Program – Regional Bureau for Arab States (UNDP RBAS) decided to support the Environment Ministry to prepare and implement sustainable cities in Sharm al-Sheikh.
She added that the projects to make Sharm al-Sheikh a green city will include waste recycling, the use of environmentally friendly technology for renewable energies, and reuse of water.
Fouad stressed that participation in these activities comes from Egypt's interest in achieving sustainable development objectives, integrating the environmental dimension in various developmental fields and moving towards the establishment of sustainable cities.
The Minister called for the development of existing buildings alongside modern buildings to increase the efficiency of their resource consumption, especially in energy, reducing emissions, reducing the pressure on resources, reducing the financial burden on both citizens and the state, and expanding new and renewable sources with government facilitation.
Edited translation from Al-Masry Al-Youm