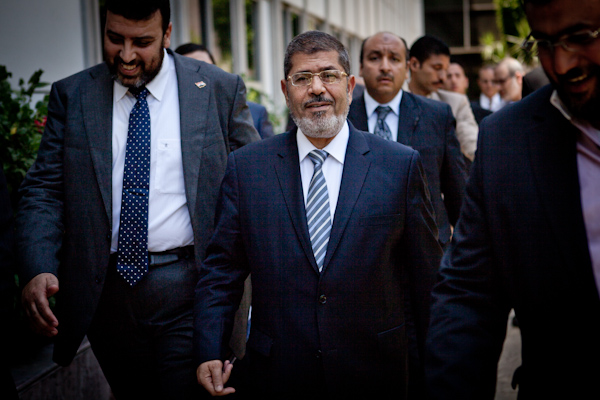 President-elect Mohamed Morsy met on Thursday with the heads of Egyptian political parties in what he said was an effort to establish a wide popular base that would be the foundation of his administration.
He stressed that Egypt remains a civil state and that his government would be based on the Azhar Document, which states that Egypt is a modern, democratic, civil, constitutional state and that the nation is the source of authority.
Yasser Ali, the acting spokesperson for the president-elect, said that Morsy has expressed the desire not to use the terms "collision" or "treason." People may hold different opinions without there being clashes or mistrust, he said.
"The impasse that the country has been stuck in for too long is about to be over," Ali quoted the president-elect as saying.
Ali said that many of the party leaders stressed the need to respect human rights, which Morsy promised to do. Morsy also said he would quickly form a coalition government that is representative of all Egyptian society in order to reassure that all Egyptians are equal.
Ghad al-Thawra Party head Ayman Nour said after the meeting that Egypt has not witnessed such an attempt at reconciliation since the assassination of Anwar Sadat.
Nour added that Morsy stressed more than once that Egypt will remain a civil state and emphasized his respect for artistic freedom.
According to Nour, there was a near consensus among meeting participants that the elected president's authorities shall not be diminished and that tradition divisions, such as "Islamist" or "liberal" shall be rejected.
Edited translation from Al-Masry Al-Youm