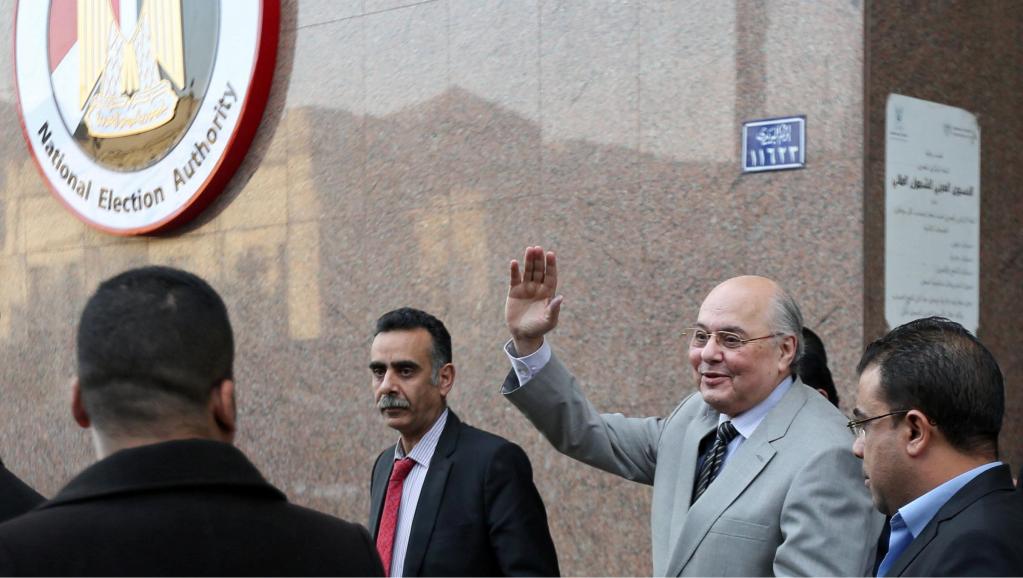 Presidential hopeful Moussa Mostafa Moussa announced that he has neither been asked nor pressured into running in the 2018 Egyptian presidential election, saying his political position is public: that he participated in June 30 and stood supporting the country, in addition to helping bring the Muslim Brotherhood down.
During an interview with state-owned Al-Ahram newspaper, Moussa also denied any claims that he received funding to run for president, saying even if he was offered he would refuse funding, as he does not need charity to run in the presidential race.
Moussa then commended his own program, saying it was a proper presidential program that deserves to be implemented, adding that if he loses the elections he will still propose his program to President Abdel Fattah al-Sisi  to work together towards for the higher benefit of Egypt. Moreover, he added that he will support the president in his journey to continue to help Egypt prosper through his growth projects, saying that this is his party's duty, in addition to being there in the elections.
As for specific details of his program, the presidential hopeful said it will focus on national capitalism, fighting unemployment, and creating job opportunities for the youth, as well as a specific attention to women's role under the program 'Our mothers', which focuses on supporting and improving the lives of female breadwinners.
As for the possibility of a presidential debate, a practice that usually takes place in a democratic election process, Moussa said that in Egypt's case it is not applicable, as he will not be able to rebuke the achievements of Sisi.
Moussa also told Al-Ahram that he has great respect for Sisi, and thinks that the president is charismatic, therefore Moussa cannot stand his ground in a debate with him. However, he will be available to answer questions about his own program.
Moussa, chairman of the Ghad Party, collected the minimum required endorsements of 20 members of parliament to run in Egypt's presidential elections, he told Al-Masry Al-Youm. He claimed that he also garnered the support of 40,000 citizens in various governorates.
Moussa is an engineer in addition to being a politician. He comes from a political family as his father was head of Wafd Party. He joined Ghad Party at the time when it was headed by Ayman Nour. They then had a fallout and Moussa ousted Nour, with Moussa going on to become the head of the party in 2011. However, he ran for parliament and was unsuccessful.
Moussa created two movements that supported Sisi: one was 'Kammel Gemeelak Ya Sha'ab' (Continue, Egyptian People), a campaign which asked for the election of Sisi in 2014, and another was 'Moyedoon' (Supporters), which he created in 2017 to support Sisi for re-election in 2018, where ironically, he is running against him as a sole competitor. However, in January Moussa withdrew his support for 'Moyedoon' after announcing he is running for presidency.
The Ghad party candidate submitted his candidacy papers in a haste after all possible contenders for Sisi were sidelined or arrested.
Rights lawyer and activist Khaled Ali announced his withdrawal from his presidential bid, citing authorities' violations of the democratic process.
He was followed by MP and Zamalek Sports Club Chairman Mortada Mansour.
In January, Egyptian authorities arrested former army Chief of Staff and presidential hopeful Sami Anan on charges of violating military law, forging official documents and inciting a split between the army and the Egyptian public. The National Elections Authority then declared him officially disqualified from running in the elections.
In early January, ex-Prime Minister Ahmed Shafiq, who had been in self-imposed exile in the UAE since he lost the 2012 presidential race, announced that he was backing out from his bid for the 2018 presidency.
Following the announcement in November 2016 by army colonel Ahmed Konsawa that he intended to run in the elections, an arrest warrant was issued against him for violating a military regulation stating that no serving army personnel is allowed to run for political office. He was then sentenced to six years in prison.
The Egyptian presidential elections are expected to take place between 26 and 28 March, 2018.