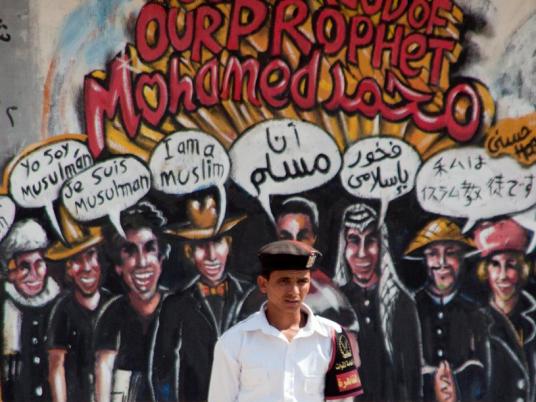 Dozens of members of a group dedicated to defending the Prophet Mohamed, his friends and relatives staged a protest on Friday outside the Giza Security Directorate. The protest was in response to a claim filed against Shia activist Amr Ibrahim, accusing him of insulting the Prophet Mohamed's wife Aisha and his close friends on his Facebook page and in a video.
Yehia al-Sherbiny, the coordinator of the Muslim Revolutionaries movement, warned that if the Giza security head did not take legal action against Ibrahim, a collective claim would be filed with the top prosecutor's office, and protesters would stage a sit-in outside his office until the incident was investigated.
The protesters raised banners that read: "Not Aisha, oh Iranian agents," and "Your freedom of belief is in your home." They chanted: "Let all Brothers hear: No Iranian relations," and "Down with all Brothers, they loved power and left religion."
Security forces spread around the security directorate in anticipation of potential clashes.
Increasingly friendly relations with Iran have been met with opposition from Salafi and conservative Sunni groups, who consider the Shia faith to be a heretical sect. The majority of the nation is Sunni, but there is also a small population of Shia Muslims, who frequently face various forms of discrimination.
Edited translation from Al-Masry Al-Youm