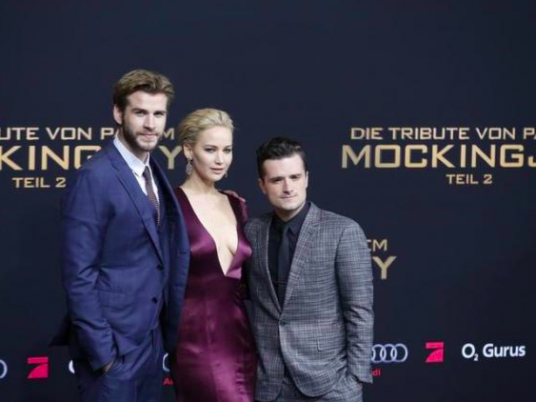 "The Hunger Games: Mockingjay – Part 2" dominated the weekend box office. The final film in the science-fiction franchise debuted to US$101 million, but even that massive figure wasn't as big a sendoff for Katniss Everdeen and her fellow revolutionaries as some had predicted.
The bow ranks as the year's fifth biggest opening, but it falls short of tracking that projected the picture would top $120 million in its initial weekend in theaters. It also represents a low for the series, falling far short of the $158.1 million high-water mark established by 2013's "The Hunger Games: Catching Fire." It's a sign, perhaps, that interest in the dystopian world of Panem has crested.
Investors in Lionsgate, the studio behind the series, reacted negatively to news that "Mockingjay – Part 2" would miss projections, sending the company's stock down more than 3 percent on Friday. For its part, the studio was put in the odd position of almost having to defend a debut that ranks among the largest in movie history.
"It's a phenomenal opening and we launched these movies at this time consciously knowing there'd be a lucrative long run way through the holidays," said David Spitz, Lionsgate's domestic distribution chief.
The series made up some ground overseas, picking up $147 million after debuting in nearly every significant foreign territory, including China. That left it with a worldwide haul of $247 million, less than the $274.9 million global kickoff enjoyed by "Mockingjay – Part 1" and far below the $300 million weekend that some analysts had predicted.
"Across the board this is just down and it's a direct reflection of how people thought about ['Mockingjay – Part 1]," said Jeff Bock, a box office analyst with Exhibitor Relations. "That was not a film. It was just a trailer."
Lionsgate spared no expense in planning a farewell to its most valuable series. It spent nearly $200 million to make and market the film. In the US the film did well in premium formats, earning an estimated $9.8 million, and Imax, where it picked up $8.5 million.
With "Mockingjay – Part 2" sucking most of the air out the multiplexes that left two new releases, Sony's "The Night Before" and STX/IM Global's "The Secret In Their Eyes," struggling to get some recognition. "The Night Before," a bawdy comedy with Seth Rogen and Joseph Gordon-Levitt, fared best, earning $10.1 million from 2,960 theaters. The film cost $23 million to make, and drew an opening weekend crowd that was evenly split between men and women.
Sony distribution chief Rory Bruer noted that there won't be another mainstream comedy in the marketplace until Tina Fey and Amy Poehler's "Sisters" debuts on December 16. He predicted the film would "get that pop" of playing into the holidays, and noted that the film received an A-minus CinemaScore.
"People love this movie," said Bruer. "It's one of those movies that you see with an audience and you want to throw up you're laughing so hard."
"The Secret In Their Eyes" faces fiercer headwinds. The remake of an Oscar-winning Argentinian thriller of the same name earned a disappointing $6.6 million for a fifth place finish. The story of a team of FBI agents involved in a murder investigation stars Nicole Kidman, Julia Roberts, and Chiwetel Ejiofor. It cost $19.5 million to produce, and is the latest in a string of films pitched at adult audiences such as "By the Sea" and "Steve Jobs," to whiff at the box office this fall.
Despite the weak opening, STX, which bought domestic rights with Route One to the film for $6.5 million, expressed confidence that "The Secret In Their Eyes" would find its audience over the holidays.
"We feel this is too early in the process to give us a full grade," said Kevin Grayson, distribution chief at STX. "This is going to factor into the Thanksgiving play period, and the twists and surprise ending are going to keep water cooler conversation going."
The weakness of the new films allowed holdovers "Spectre" and "The Peanuts Movie" to pad their box office results. The latest Bond adventure added $14.6 million to its $153.7 million domestic haul, nabbing second place on the charts. "The Peanuts Movie" finished third, picking up $12.8 million to push its stated total to $98.9 million.
In limited release, the Weinstein Company scored with "Carol." The critically heralded love story with Cate Blanchett and Rooney Mara generated $248,149 from four theaters for a strong per-location average of $62,037.
"Reviews and word of mouth will drive this film," said Erik Lomis, distribution chief at the Weinstein Company. "These are fantastic performances by Rooney and Cate and [director] Todd Haynes delivered some great filmmaking."
Universal had more trouble finding its audience for "Legend." The violent gangster picture about the Kray twins saw Tom Hardy doing double duty as the crime boss brothers, but critics were lukewarm, and the picture nabbed a so-so $83,000 from four theaters for a per-screen average of $20,271.
With "Hunger Games: Mockingjay – Part 2" not hitting as big a bullseye as other pictures in the series, the overall box office tumbled. Ticket sales were down roughly 10 percent for the weekend, down from the year-ago period that fielded "Mockingjay – Part 1's" $121.9 million opening.
"The overall marketplace is slow," said Paul Dergarabedian, senior media analyst at Rentrak. "There's too many movies, too many distractions, and so much going on in the world right now."