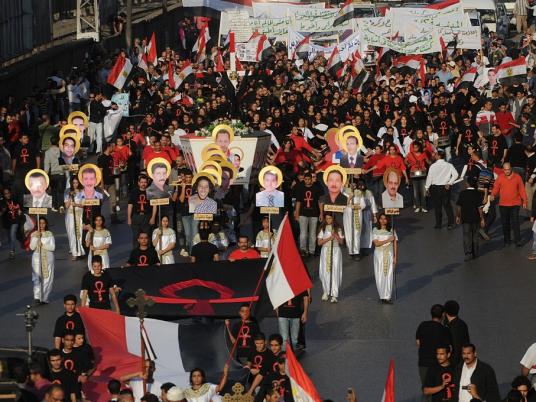 Hundreds of protesters marched from Tahrir Square to the state television building, known as Maspero, on the Nile Corniche, raising a 20 meter Egyptian flag and chanting slogans condemning state media coverage of revolutionaries and protesters.
State television had criticized the demonstrators for not participating in 25 January celebrations called for by the ruling Supreme Council of the Armed Forces.
Protesters demanded speedier trials for those accused of killing demonstrators over the last year. The marchers also chanted against military rule.
No military troops were present at the scene. A small number of police took refuge behind barbed wire.
Some protesters, carrying a coffin on which "Down with the Military Rule" was written, marched to the building.
Eyewitnesses estimated the number of protesters at around 1,000. They chanted "Here are the liars" and pointed at the television building. The march grew bigger as members of the "We are all Mina Daniel" movement joined the protest.
State television faced severe criticism for presenters' incitement against a Coptic-led demonstration in front of Maspero on 9 October. During that protest, 27 protesters were killed, including Daniel.