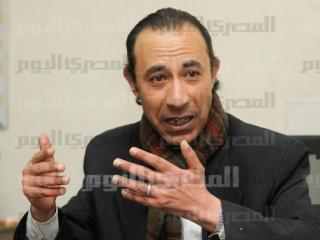 The Egyptian Radio and Television Union (ERTU) is considering imposing harsher penalties than initially enforced against sportscaster Ahmed Shobeir after he slapped his colleague Ahmed al-Tyeb on-air on the TV show al-Ashera Masa'an.
The commentators were invited to take part in Saturday night's show, hosted by Wa'el al-Ebrashy on Dream satellite channel, the producer having wanted them to discuss football-related issues in Egypt, with particular focus on football fanaticism. Both are popular sports commentators in Egypt, and Shobeir was formerly a goalkeeper for El Ahly club and the Egyptian national football team.
Shobeir declined the invitation to participate in the show, so only al-Tyeb was present when the program began.
Local media reported that the program's producer, Fatma Qandeel, sent Shobeir a provocative message on the mobile messaging application, Whatsapp, saying, "al-Tyeb is talking about your family" — a taboo subject in Egyptian culture.
At the time al-Ashera Masa'an was being broadcast, Shobeir was simultaneously hosting a program on satellite channel Sada al-Balad, a sister channel at the Egyptian Media Production City.
Masrawy news website reported that upon receiving the message, Shobeir called for a commercial break on his own show and made his way to the studio where al-Ashera Masa'an was being broadcast live on air.
The television footage rolled as Shobeir entered the studio and began a fight with al-Tyeb.
Following the televised tussle, the head of the ERTU, Safaa Hegazy, made the decision on Monday to suspend Shobeir and prevent al-Tyeb from making subsequent appearances on any state-owned channel.
Potential amendments to the decision are currently being discussed at the ERTU's Cairo headquarters, Maspero, sources within the ERTU told Al-Masry Al-Youm.
The 6th of October City Prosecution is investigating the two cases of Shobier and Tyeb individually, both of whom have accused the other of physical assault.
The producers of al-Ashera Masa'an apologized to viewers for the blip, saying that the host did everything in his power to prevent the quarrel.
Shobeir also apologized to viewers during his own show "Ma'a Shobeir", claiming that, "for the past 20 years viewers have come to know me for my respect, politeness and punctuality." This, he claimed, is what has made him popular.