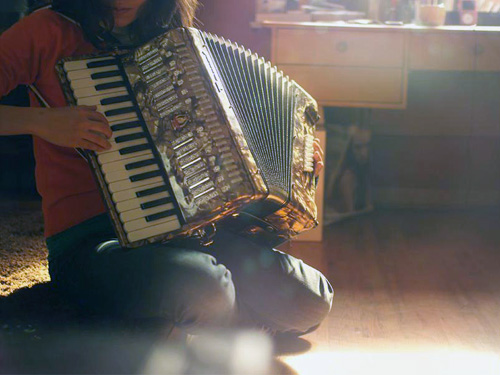 Twenty-nine year old Youssra El-Hawary won first place today in the third edition of the Fair Play global music video competition for her music video "Al-Soor" (The Wall). The humorous yet poignant video released in April went viral as soon as it was posted online, garnering an ever-growing number of fans.
In "Al-Soor," Hawary plays her accordion at dawn perched on top of one of several concrete barriers that the Egyptian military built in late 2011 across certain streets in downtown Cairo. The walls caused major detours for residents and people working in the city center, and even forced some businesses to shut down.
The confrontational structures later blended into the cityscape as graffiti artists painted cheerful, trompe l'oeil scenes on them, before most of them were taken down. The walls were also the target of the witty lyrics of political cartoonist and poet Waleed Taher, which were playfully performed by Hawary in "Al-Soor": "In front of the wall/In front of those who built it/In front of those who made it high/Stood a poor man/And peed/On the wall and those who built it and those who made it high."
"Al-Soor" competed against 75 other videos, all made by young bands with members aged 18 to 35, and originating from 35 different countries. "Vonis" (Verdict) by Indonesian band SIMPONI came in second place. The music video appears as a call for change as Indonesian youth face a harsh contemporary reality of corrupt politicians and officials eroding the people's promise in the future. The Congolese band S3 was awarded third place for "Conscience," which highlights the exploitation of the Democratic Republic of Congo's resources and how foreign politicians value resources over the interests of the people.
This year's winners will participate in and perform at the third Voices Against Corruption Forum in Brazil in November.