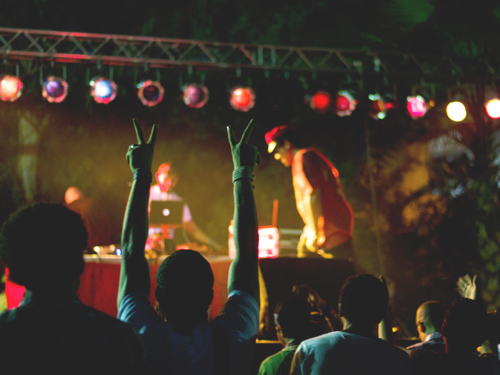 There is something to be said for the solace and inspiration found within Egypt's evolving musical landscape over the past year. It may not be for everyone; it is certainly not for those who seek pristine sounds from the West. Yet the potential and energy of it all is absolutely alluring. Below is a compilation of game-changing songs and sounds from Egypt's burgeoning, alternative music scene in 2012.
Arabian Knightz
'Sisters' featuring Shadia Mansour and Isam Bachiri
In October, Egypt's most prominent rap crew, Arabian Knightz, successfully released their debut LP "Uknighted State of Arabia." In "Sisters," their direct, raw and apologetic lyrics, combined with their seamless Arabic and English flow, sets the bar for the local rap game. Since 2006, band members Rush, Sphinx and E-Money have continued to lead the pack with their keen production, professionalism, sound quality and downright good rap music. It also helps that they collaborate with venerable hip-hop producers like FredWreck and members of the Wu-Tang Clan.
MC Amin
'Al-Thawra Mostamera' (The Revolution Continues)
While he often collaborates with Arabian Knightz and other rappers or producers from the region, MC Amin, aka "The General," is his most dissenting self in his solo projects. In "al-Thawra Mostamera," the fourth in his ongoing series of dissident singles, he uniquely combines his notorious gangster rap persona with grimy beats, and his trademark in your face, yet poetic, lyrics.
Maryam Saleh
'Ana Mesh Baghanny' (I'm Not Singing)
Teetering on the edge of rap music, electronica, Oriental, Arabic trip-hop and rock, Maryam Saleh has one of the most unique sounds coming out of Egypt today. Her crooning singing style and deep, trebled vocals add a distinguishable drama to the tonality of her overall sound. Listening to songs like "Ana Mesh Baghanny," the emotion in her vocals is reminiscent of Egyptians singers from the Golden 1920s, with a twist of modernity resembling M.I.A.
Maii Waleed
'Moga' (Wave)
Maii Waleed and her rare crossbreed of Arabic, indie-dream pop music is truly out of this world. No, really — she claims to have a deep fascination with outer space and her ruling planet, Neptune, both of which provide her with a great source of inspiration. Her music speaks directly to the freewheeling, stargazing spirit — filled with tales of lonerism, galactic musings and shaky relationships. With hit indie singles like "Moga," Waleed caught the ears of Lebanese music producer Zeid Hamdan, and together they are releasing her debut EP any day now.
Wetrobots + Bosaina
'Disco Me'
There's nothing quite like the magical combination of electrifying synthesizers, infectious beats and sardonic lyrics sung by a wild blond in a cat suit. Bosaina El Kahal and the Wetrobots (producers Ismail Hosny and Hussein El Sherbini) are one of the more invigorating acts to enter the local scene. Hailing from different musical backgrounds including rock, 90's pop and French electro, this synth-pop trio is one of the more raucous and captivating musical acts in the country. Their party-anthem, "Disco Me" is pure, audacious energy — it's certain to intoxicate any listener, particularly while on the dance floor.
Massar Egbari
'El 7okouma' (The Government)
This Alexandria-based, five-man Arabic-blues, jazz-rock ensemble is no novice to Egypt's underground music scene. In fact, many consider it to be a pioneer. Starting in 2005, Massar Egbari has reached notable success and continues to tour the globe while also garnering a remarkable following amongst the youth in Egypt. They are among the more experienced bands out there, which manifests in their identifiable and developed sound. In their piano-based single, "El 7okouma," the band again succeeds in blending their dissident prose within a melancholic soft-rock number — the combination pulls directly at the consciousness of listeners.
Dina El Wedidi
'A7eih a7eih'
There's something so powerfully raw about singer-songwriter Dina El Wedidi. With elements of traditional Arabic music, folk and spoken-word poetry, Wedidi's guitar-based music and political lyrics have attracted attention both locally and abroad. In 2012, the 24-year-old musician was announced winner of the Rolex Mentor and Protégé Arts Initiative, which gave her the opportunity to be mentored by the world famous Brazilian singer, guitarist and political activist Gilberto Gil. Her recent track "A7eih a7eih" is full of tension, social observations and just the right amount of oriental funk.
Oka W Ortega 8%
'Al-Elba al-Thahabiya' (The Golden Box)
Unless you've been living under the pyramids for the past couple years, it would be nearly impossible to miss the shaaby electronic-rap craze that's dominating the musical sound waves in Egypt. Nearly every passing tuk tuk, felucca and car fills the air with that unmistakable trance-like beat, auto-tuned vocals and dance party synthesizers. Musicians Oka and Ortega may not be the pioneers of this new wave of shaaby sounds, but they are succeeding time and again at bettering their production and expanding their audience base. One of their slower tracks, "The Golden Box," allows for a more clear delivery of their rather witty lyrical content and their talent for storytelling.
When it comes to Egyptian pop music, Oka and Ortega just might be crowned the new kings come 2013.
A version of this piece was originally published in Egypt Independent's weekly print edition.