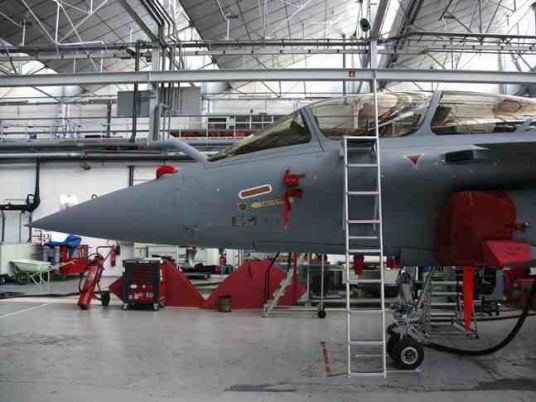 France's Dassault Aviation will increase production of the Rafale fighter jet if it signs a third export contract and has room to double its current output of 11 planes a year, its chief executive said on Wednesday.
Dassault recently won orders for a total of 48 planes from Egypt and Qatar. A third potential deal for 36 aircraft between France and India has yet to be completed.
"There is one production line but we will increase output if we sign a third contract," Eric Trappier told reporters, asked whether Dassault planned to add a second assembly line.
"For now we have the first two contracts which fit into our existing production, because France is substituting export planes for its own planes," he said.
Asked on the sidelines of a Thales shareholder meeting whether increasing production would need investment, he said: "Very little. We can double it without any problem".
Dassault currently produces 11 Rafale jets a year.
Earlier this month, Dassault signed a 6.3 billion euro ($7.07 billion) deal for the sale of 24 Rafale fighters together with MBDA missiles.
In February it signed a similar deal with Egypt following years of negotiations to secure a foreign buyer.
Last month, Indian Prime Minister Narendra Modi said he had ordered 36 "ready-to-fly" Rafale fighter jets in direct talks with the French government, sidestepping three years of fruitless efforts to finalise a much larger deal with Dassault.
The announcement left uncertainty over whether India would proceed with the original tender for 126 aircraft, but Trappier suggested the new government order may push that to one side.
"India has said it is in a hurry to buy the Rafale and is ready to take 36 now in accelerated government negotiations. After that we will see….There are two parallel routes, and at some point you have to decide which route you are taking."
Trappier said he did not know when the inter-government contract for 36 planes would be signed.
After lining up deals worth some 15 billion euros for a total of 84 Rafale aircraft, France now has the United Arab Emirates in its sights for dozens more purchases.
Trappier declined to comment on the progress of negotiations in the UAE, which has also studied the Eurofighter Typhoon in recent years, occasionally clashing with both manufacturers.
"You will see," Trappier said. "I won't comment on the UAE".