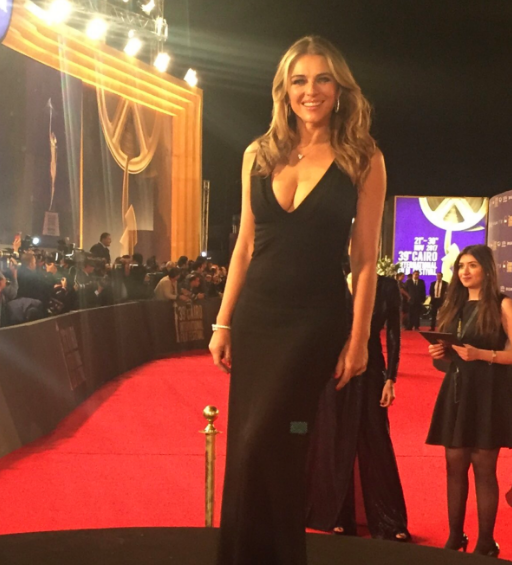 In a prestigious opening for its 39th session on Tuesday evening, Cairo Film Festival presented the British actress and model, Elizabeth Hurley, as a guest of honor, along with other Egyptian and Arab actors and actresses.
Hurley expressed joy to be involved in the festival for her first time, "I am so excited," she said, adding that she had visited Egypt several times in the past, including a trip to Luxor last year.
On Wednesday she tweeted, "thank you Cairo Film Festival for having me," along with a photo of herself on the red carpet.
There was all-round jubilation during an awards session.
Egyptian actor Samir Ghanem was in a humorous mood as he received the Fatem Hamama Award.
"I was watching the Oscars four years ago when Cristopher Plummer received a prize that he said he waited for 80 years to get," Ghanem went on, "as a joke, I will say I've been waiting for the Cairo Film Festival prize for 5 years only," before his two daughters, Donia and Emmy, presented him with the Fatem Hamama Award.
Ghanem dedicated his award to Shadia, an actress of golden-era Egyptian cinema.
Tunisian actress, Hend Sabry, and the Egyptian comic actor, Maged al-Kedwany, were also presented the Faten Hamama Award at the festival.
"This is the biggest prize I have ever had and I consider it my birthday present," Sabry said.
Kedwany was honored to receive the award, "this prize is a dream for every Arab artist," he said, flattered to be honored alongside two renown artists like Ghanem and Sabry.
Edited translation from Al-Masry Al-Youm