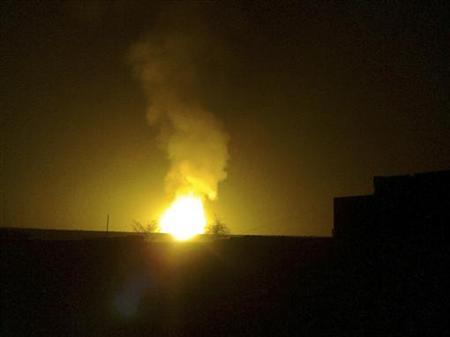 More than a month of relentless airstrikes by a coalition led by Saudi Arabia has inflicted painful damage on Shiite rebels in Yemen, but they show little sign of collapse.
The rebels, known as the Houthis, continue to have a strong grip on the capital, Sanaa, and much of the north. They and their allies — powerful military units loyal to the former president, Ali Abdullah Saleh — are still able to fight doggedly on multiple fronts, particularly in the south.
In weeks of grueling urban warfare, Houthi and pro-Saleh forces are slowly taking neighborhood after neighborhood of the southern port city of Aden, the main stronghold of their opponent, current President Abed Rabbo Mansour Hadi, who fled the country to Saudi Arabia. Fighting the Houthis are a loose mix of militias, some supporting Hadi, others fighting for their own local interests.
That leaves Saudi Arabia and its allies with only a few options. One is to launch a troop intervention on the ground to bolster the anti-Houthi forces. The other is to keep up the punishment from the air in hopes that eventually the rebels and Saleh's forces are worn down enough to make concessions and enter negotiations — or enough that the population of Sanaa and other areas rise up against them.
The Saudi goal in the campaign is ultimately to restore Hadi but it appears that it's not counting on outright military victory to do so. Instead, it wants to push the Houthis and Saleh loyalists to pull back from several cities they took over in recent months and come chastened to the negotiating table.
Saudi Arabia also fears that the Iranian-backed Houthis will be a proxy for Tehran if they succeed in their power grab in Yemen. The Houthis overran Sanaa and much of the north late last year — and when they pushed south threatening to take Aden, Saudi Arabia launched the airstrikes on March 26.
The air campaign does appear to have inflicted heavy damage.
It is likely due to the airstrikes that Aden has held out this long. Militias in the southern cities of Taiz and Dhale and the northern region of Marib have put up ferocious resistance to the Houthis, even though the rebels and Saleh loyalists had a wide superiority in firepower and numbers.
"The airstrikes have prevented them from achieving their political ambitions, but have not forced them to make concessions either," Ahmed Harmal, a Dhaleh-based leading figure from Herak, southern Yemen's biggest political movement and a champion of the region's secession, said of the Houthis.
The air campaign has almost completely wiped out Yemen's air force, which was loyal to Saleh. Almost all of Yemen's airports have been put out of action and attempts to repair runways are instantly met with renewed bombing.
The strikes have also hammered a ring of military facilities and arms depots encircling Sanaa, as well as bases and arsenals in the Houthis' main stronghold of Saada, north of the capital. The strikes have diminished — though not eliminated — the Houthi and Saleh loyalists' stores of heavy weapons like tanks and rockets.
The campaign has also put heavy limits on rebel and Saleh loyalist movements. Convoys as small as two or three vehicles have been hit by strikes, sometimes moments after they hit the road. If a first round of airstrikes misses, warplanes return sometimes within 15 minutes to strike a target again.
That demonstrates a powerful asset of the Saudis: an elaborate network of Yemeni informers to aid their air campaign. Kept loyal by Riyadh's largesse, the informers have been instrumental in the airstrikes, identifying targets and providing actionable intelligence on concealed arms depots, secret training camps and hideouts of rebel leaders.
In response, the Houthis and Saleh loyalists have embraced new tactics to reduce the chance of being spotted while on the move. These include traveling by night with the lights of their vehicles turned off — or traveling on foot, also by night.
The campaign, along with grueling fighting on the ground, has also tipped the impoverished nation into humanitarian crisis. Hundreds of civilians have been killed, and 300,000 have fled their homes, according to U.N. estimates. Distribution of food, fuel and medicine has been severely disrupted.
The Houthis have made the scarcity worse in Sanaa by diverting fuel supplies and other goods to their fighters. Salaries of government workers — including some in the military — have been reduced or not paid at all.
In a sign of diminishing enthusiasm among supporters, pro-Houthi rallies in Sanaa that once brought out well over 10,000 people in the past have fallen to just a few thousand.
Still, serious opposition to the Houthis in Sanaa has made no public appearance — because of fear, opponents say. Despite airstrikes, Houthi fighters patrol the streets and man checkpoints, and they have cracked down heavily on any protests against their rule in the past. A number of journalists and others critical of the rebels have been arrested.
"To be honest, people are afraid of the Houthis," said Mansour Hayel, a prominent author and analyst in Sanaa. "Motorists line up at gas stations for up to three weeks and they don't protest."
Also, little dissent has emerged from within Yemen's Zaydi Shiites, the minority sect from which the Houthis emerged and who make up around a third of the country's population. That too may be in part because of fear.
"There are traditional Zaydi religious authorities who are opposed to the Houthis' policy choices," said Radhya al-Mutawakel, an activist from Sanaa, Yemen's capital. "Their voice is not heard but you can find them if you look."
The forces battling the Houthis and Saleh loyalists are fragmented. Some are Hadi supporters. Others are fighting for an independent south. Others are tribal fighters whose main priority is to keep outsiders out of their local domains.
"We are as steadfast as the mountains of our land," said Saleh al-Anjaf, a spokesman for an anti-Houthi tribal alliance in the northern Maarib province. The Houthis, he said, were 30 kilometers (20 miles) outside the province's capital, also called Maarib, but stiff resistance by the tribesmen is preventing them from advancing.
There are signs the Saudi-led coalition is moving toward a ground operation to bolster those forces.
On Sunday, a small group of 20 coalition troops came ashore in Aden on a mission for reconnaissance and training and organizing pro-Hadi forces. Military officials in Yemen and Egypt said they were likely to be joined by more troops as the coalition tries to clear and fortify an area in Aden suitable to serve as a future base for Hadi and his government.