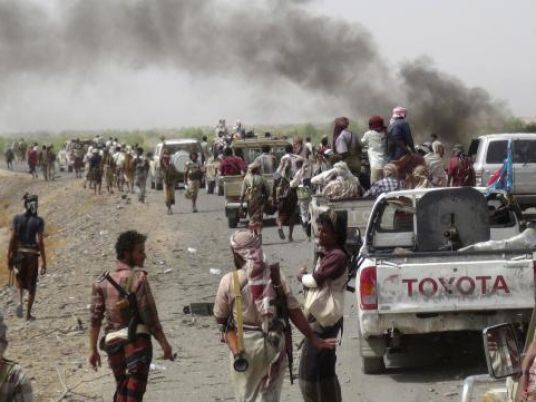 Pro-government forces pursued fleeing Shiite Huthi fighters in south Yemen Wednesday, military sources said, as they looked to press recent gains against the rebels, including the retaking of a key airbase.
Soldiers loyal to exiled President Abedrabbo Mansour Hadi wrested control Tuesday of Al-Anad airbase in Lahj province — one of Yemen's largest military facilities — from the Huthis, and later advanced to take provincial capital Huta.
Military and medical sources said that at least 39 rebels and 17 loyalist fighters had been killed since Tuesday around Huta, which had been in Huthi hands since March.
"(The situation in) Huta is under control after search operations last night and this morning," a military source said.
Rebel fighters beat a retreat in the Wadi al-Husseini region around the road linking Al-Anad and Huta, the source said, adding that Lahj's provincial governor was expected to visit Huta later on Wednesday.
The recapture of Al-Anad is a major boost for the defence of second city Aden and paves the way for a possible return by the exiled government to the southern port which was its last refuge before it fled into exile in neighbouring Saudi Arabia in March.
Al-Anad, 60 kilometres (40 miles) north of Aden, is strategically located on the main road north towards both the battleground third city of Taez and rebel-held capital Sanaa.
The vast complex housed US troops overseeing a drone war against Al-Qaeda in Yemen until shortly before the rebels overran it.
Its loss is a major blow to the insurgents, whose leader Abdulmalik al-Huthi claimed just Sunday that their ouster from Aden after four months of ferocious fighting was merely a "short-term" setback that would be reversed.
To secure Yemen's second city, pro-government forces are seeking to retake areas in Lahj and neighbouring Abyan province in a bid to prevent a rebel riposte.
Recent days have seen fierce fighting in Zinjibar, the capital of Abyan that remains under rebel control, and in the southern town of Loder, according to residents and local officials.
A spokesman for the pro-Hadi forces said Wednesday however that "the liberation of Zinjibar is now close".
Yemen has been riven by violence since a Saudi-led coalition launched air strikes against Huthi rebels earlier this year after they and troops loyal to ousted president Ali Abdullah Saleh approached Aden after seizing Sanaa in September.