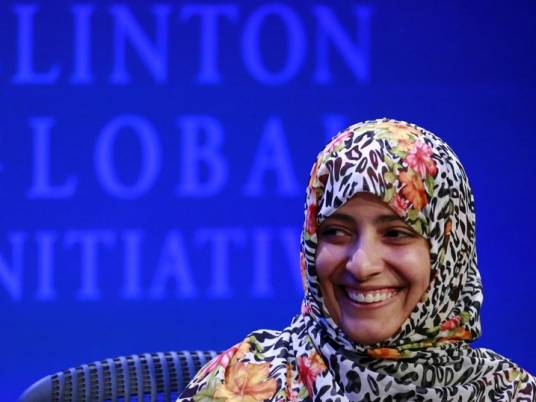 Yemen's Houthi rulers have launched an investigation against dozens of public figures, including Nobel Peace Prize laureate Tawakul Karman, state news agency Saba said late on Tuesday, following a complaint that could amount to treason.
Saba said a non-governmental organisation had filed a complaint with the public prosecutor claiming that 39 prominent figures, including many living in exile, had compromised the country's independence, unity and territorial integrity.
"The first attorney in the office of the public prosecutor has ordered an investigation into an urgent complaint of crimes that impact the independence of the Republic of Yemen, its unity and the safety of its territory," Saba said.
The organisation, identified as the Legal Centre for Rights and Development, suggested on its Facebook page that the complaint was linked to Saudi-led air strikes on Yemen, citing attacks on private and public transportation, storage houses and public facilities.
The United Nations said last week an estimated 551 civilians, including 31 women and at least 115 children, had been killed since Saudi-led military operations began in Yemen on March 26.
Saudi Arabia says the campaign it leads was aimed at shoring up President Abd-Rabbu Mansour Hadi against the Iranian-allied Houthi group and was being carefully conducted to avoid civilian casualties.
Karman, a mother of three who became a figure of symbolic importance in the 2011 Yemeni uprising, was the first Arab woman and second Muslim woman to win the Nobel Peace Prize.
Apart from her, the list included President Abd-Rabbu Mansour Hadi's former chief of staff, Ahmed Awad bin Mubarak, two brothers who are leaders of the Hashed tribal federation, Hussein and Hameed al-Ahmar, and Hamoud Munassar, chief correspondent for the Saudi-owned al-Arabiya television.
The list also included General Ali Mohsen, the commander of the First Armoured Brigade who broke ranks with the then-President Ali Abdullah Saleh during 2011 protests against his 33 years in office and sided with demonstrators.