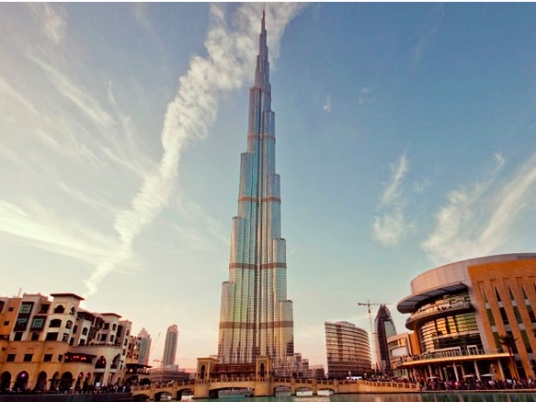 The Burj Khalifa, the world's tallest building, has been named the world's best attraction of 2015 for allowing visitors to take a walk in the clouds.
The towering landmark in Dubai took the top honor at the 2015 AttractionTix Worldwide Attraction Awards, a small competition that garnered 13,500 votes for its list of finalists.
Winners were determined by a combination of public votes and a panel of judges, including travel bloggers and AttractionTix.co.uk.
The building's At the Top attraction, which opened in 2014, whisks visitors to the 148th level, the highest outdoor observatory in the world at 555m.
To gain access, visitors first ascend the building in a high-speed elevator, disembark on the 124th floor, and transfer to the 125th level, where they can get a virtual tour of prominent landmarks with an attraction dubbed "A Falcon's Eye View."
The observation deck also offers visitors a 360-degree view of the city.
Next, visitors are escorted to a dedicated elevator that takes them to the 148th floor and the world's highest outdoor observation deck, where they can touch the clouds.
Overall, the Burj Khalifa stands 828m tall.
Other big winners in the 2015 AttractionTix Worldwide Attraction Awards include the Eiffel Tower, named the most romantic attraction in the world, and the Empire State Building, which took the title of best observation deck.
Here is a selection of winners:
Best attraction in the world 2015: At the Top, Burj Khalifa, Dubai
Highly Commended: Universal's Islands of Adventure, Orlando, Florida
Best attraction in the UK: Coca-Cola London Eye, England
Best attraction in London: The View From the Shard, London, England
Most romantic attraction: The Eiffel Tower, Paris
Best theme park ride 2015: Shambhala, PortAventura, Spain
Best waterpark ride: Flood River, Wild Wadi Waterpark, Dubai
Best observation deck: Empire State Building, New York
Best animal encounter: Serengeti Safari, Busch Gardens Tampa, Florida.