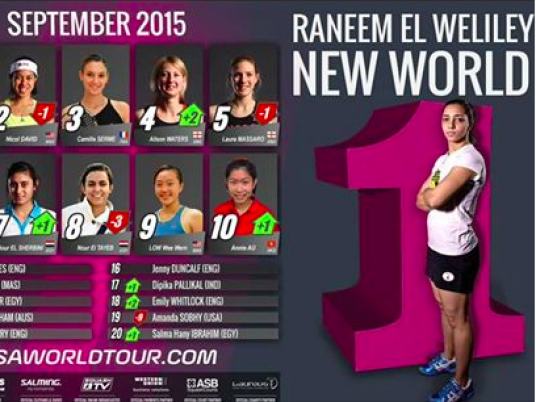 In an unprecedented victory, Egyptian Raneem al-Welily has been crowned the world number one ranked squash player, according to the September 2015 Professional Squash Association (PSA) Women's World Rankings.
Welily is the first Egyptian/Arab female ever to claim the top spot, not only in squash, but in any professional sport. Her victory also makes her the 13th squash player worldwide to attain this position.
Earlier in 2015, Welily clinched a hat trick victory at the J.P. Morgan Tournament of Champions, Guggenheim Partners Windy City Open and the Alexandria Open.
"I'm absolutely thrilled to have become the new World No.1," Welily said in a statement.
Twenty-six-year-old Welily pulled off the victory by bringing down fierce competitor Nicol David from Malaysia, who had occupied the women's number one world squash ranking for nine consecutive years, one of the longest reigns in world sport.
"Nicol has been number one for so long and the gap between her and all of us has been so huge that to get close to her is an achievement in itself. To be the person to finally overtake her is huge for me."
Welily's rise to fame
At the age of 6, Welily, from Alexandria, decided to follow in the footsteps of her elder brother and pursue her passion as a professional squash player.
By the age of 10, she had already joined the World Junior Squash Championships 2001 in Penang, Malaysia.
Success, however, was not handed to Welily on a silver platter. She had to work hard to reach the top. Before becoming number one, she occupied the world second rank for eight months and throughout the previous years, accumulated a long list of accomplishments in her sport.
Welily's sparkling career witnessed a major breakthrough when she was named Wispa Young player of the year in 2004 and 2005, followed by a world junior championship win in Herentals, Belgium in 2005.
Future plans
Welily's next step is 2015-2016 season at the Stars On The Bund China Open on September 3.
"Having that ranking makes me even more determined to try my best this season but it's important not to put too much pressure on myself," she said.
"I'm trying to be hungrier this season than ever before and I'll need that hunger if I'm to stay at the top and hopefully I can start the season well in China."