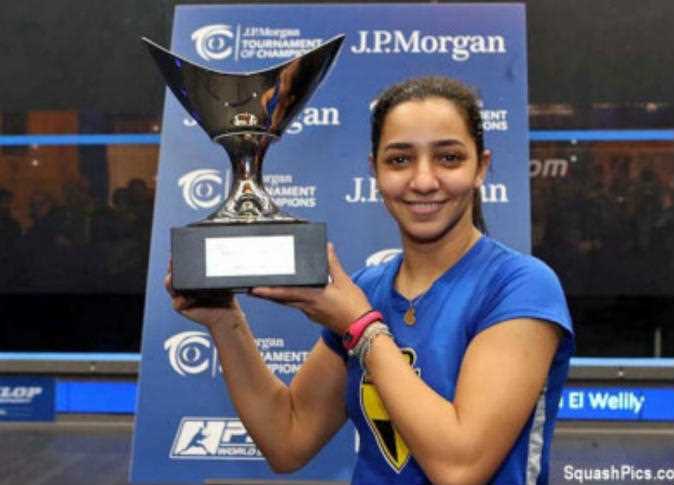 In a big surprise, Raneem al-Welily, the world's top female squash player, announced her retirement from the game after a long journey of great achievements.
Welily published the news of her retirement on her official Facebook page on Thursday. Her husband, Tareq Moamen, the men's world squash champion, also shared the news on his personal Facebook account.
Raneem, 31, said she made the decision for personal reasons, although she has been training at home with her husband on a daily basis during the coronavirus lockdown.
Welily has topped the women's squash rankings since December 2018.
The squash season went on hiatus in mid-March due to the coronavirus pandemic, and is expected to remain suspended until mid-August.
In announcing her retirement, Welily said that her family is currently a priority. The announcement, however, came as a surprise for the fans of the game, whether in Egypt or abroad.
Welily's message read: "Dearest squash family, fans and friends. For the past year or two, I must have written these words in my head over a thousand times. Squash has been my life for the past 25 years, but the time has come for me to say goodbye.
What a ride it's been. When this journey started, I never thought that it would take me this far. I have been so fortunate to have witnessed many generations play the game, to have been inspired by so many legends, and to have been part of such a great era."
She continued: "This post […] is mainly to thank anyone who has helped and supported me throughout my career, sometimes with just a word or even a smile. Thank you for always being there, in every possible way.
"I don't know what the future holds for me career-wise, but I do know that starting a family with Tarek is a priority for us. And whatever challenges life may throw our way, I hope that I will be ready to face them."
Egypt has long had a strong presence in professional squash competition, and Welily has consistently been one of the country's strongest players.
Welily has won 355 out of 503 total matches, recording a 70.6 win percentage, according to the Professional Squash Association (PSA) World Tour.
She was officially named world champion in Manchester in 2017, according to her PSA profile.
The Egyptian champ crowned her 2017-2018 season with a number of outstanding awards, including at the El Gouna International Squash Open, the US open and the China open.
In 2019, Welily won the Oracle NetSuite Open trophies in San Francisco, hoisting the trophy over her head after defeating her competitor Nour al-Tayeb, with a score of 11-5 in three straight games.
Welily's golden year, however, was 2015. There she achieved distinct recognition, including winning the PSA Women's Player of the Year, as well as being the first player in more than nine years to oust the prior number one spot holder Nicol David, topping the PSA World Rankings.