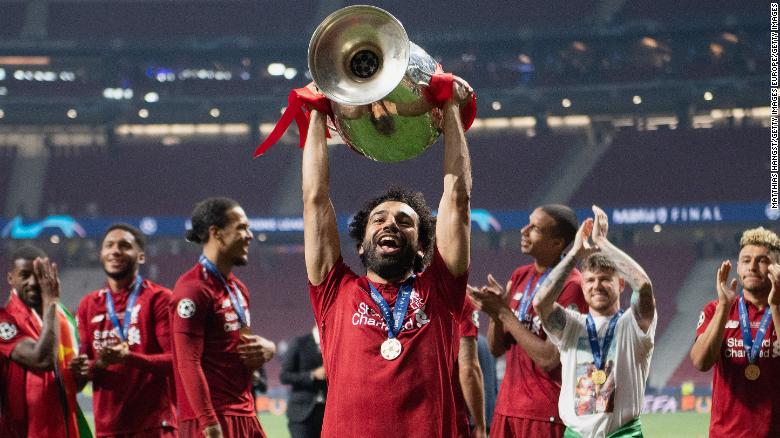 Egyptian football star and Liverpool striker Mohamed Salah has been added to the shortlist of players competing to win the Goal of the Decade award, for his legendary goal against Tottenham in 2018.
Salah is one of 10 remaining contenders for the title of Liverpool's Goal of the Decade, according to Liverpool's website.
Liverpool announced in December a vote for selecting the best Reds striker from each year of the 2010s.
"We now have our final shortlist of 10 (players)," the website said, calling on football fans to take part in the final vote for Goal of the Decade.
The list includes Fernando Torres' goal in 2010 against Sunderland, Luis Suarez's goal in 2011 against Stoke City, Luis Suarez in 2012 against Newcastle United, Luis Suarez again in 2013 vs Norwich City, Daniel Sturridge in 2014 vs Everton, Philippe Coutinho in 2015 vs Southampton, Jordan Henderson in 2016 vs Chelsea, Emre Can in 2017 vs Watford, and Divock Origi in 2019 vs Barcelona.
Salah has been an unstoppable force since leaving AS Roma to join the Reds in the summer of 2017, following up an historic 44-goal debut season with another 27 goals in all competition in the next season, according to Liverpool's website.
He won the Premier League Golden Boot Award for 2017-2018 with 32 goals — a new record for a 38-game campaign — and won the award again the following season alongside teammate Mane and Arsenal's Pierre-Emerick Aubameyang, making him the sixth player in history to win the award in back-to-back seasons.
Earlier in December, Salah was named the fifth-best player in the world by the magazine France Football as part of the prestigious Ballon d'Or awards, football's greatest individual prize.
He won African Player of the Year for the second year consecutively in 2018, and he is the fourth African player to snatch the title back-to-back, following El Hadji Diouf, Samuel Eto'o, and Yaya Touré.
Liverpool's Salah also claimed the Premier League's player of the month title once in 2017 and twice in 2018.