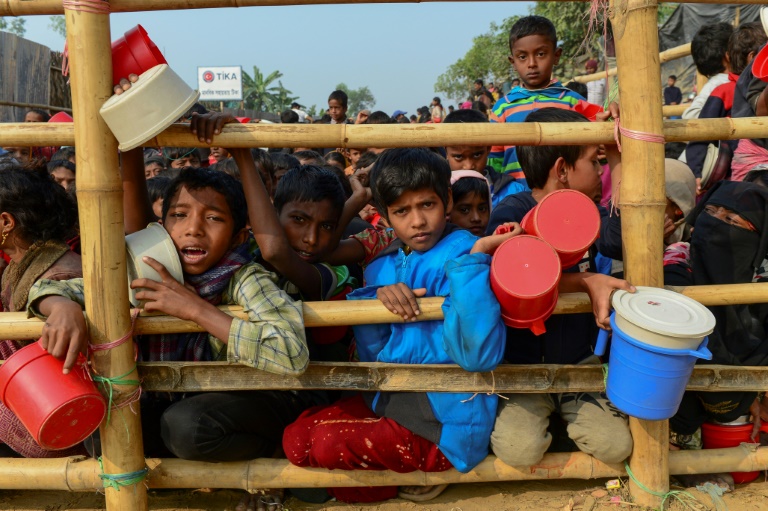 UN Secretary General Antonio Guterres said he heard "unimaginable" accounts of atrocities during a visit Monday to vast camps in Bangladesh that are home to a million Rohingya refugees who fled violence in Myanmar.
Guterres described the situation for the persecuted Muslim minority as "a humanitarian and human rights nightmare", as he prepared to tour makeshift shelters crammed with people who escaped a huge Myanmar army operation last year that the UN has likened to ethnic cleansing.
"In Cox's Bazar, Bangladesh, I've just heard unimaginable accounts of killing and rape from Rohingya refugees who recently fled Myanmar. They want justice and a safe return home," Guterres said on Twitter.
"The Rohingya are one of the most discriminated against and vulnerable communities on Earth," he said in tweet before his visit to the camps in southern Bangladesh.
Accompanied by the head of the World Bank, Jim Yong Kim, he called it a "mission of solidarity with Rohingya refugees and the communities supporting them. The compassion & generosity of the Bangladeshi people shows the best of humanity and saved many thousands of lives".
The bulk of the Rohingya in Bangladesh, or some 700,000 people, flooded across the border last August to escape the violence.
They are loathed by many in Myanmar, where they were stripped of citizenship and branded illegal immigrants from Bangladesh, despite calling Rakhine their homeland.
A UN Security Council delegation visited Myanmar and Rakhine state in early May, meeting refugees who gave detailed accounts of killings, rape and villages torched at the hands of Myanmar's military.
Myanmar has vehemently denied allegations by the United States, the UN and others of ethnic cleansing.
Bangladesh and Myanmar agreed in November to begin repatriating the Rohingya but the process has stalled, with both sides accusing the other of frustrating the effort.
Fewer than 200 have been resettled, and the vast majority refuse to contemplate returning until their rights, citizenship and safety are assured.
Around 100 Rohingya staged a protest just before Guterres's visit, unhappy about a preliminary UN deal with Myanmar to assess conditions on the ground for their possible return home.
The United Nations has said however that conditions in the persecuted minority's home state of Rakhine in western Myanmar are not conducive for the refugees' safe, voluntary and dignified repatriation.