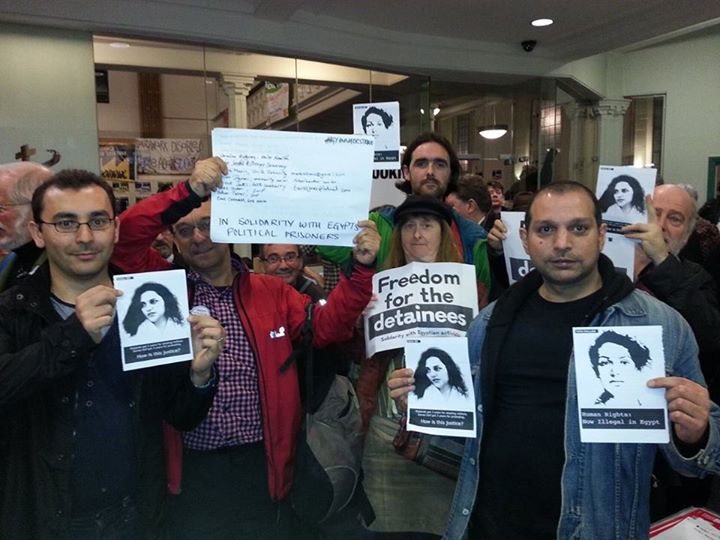 A group of world trade unionists, academics and journalists are seeking 1,000 hours of hunger strikes in solidarity with Egyptian prisoners and detainees who have gone on hunger strikes over the past year.
"Egyptians have struggled courageously for their freedoms – now they ask if gains of the 2011 revolution are to be dismissed with a new wave of repression," said the
founding statement
by Egypt Solidarity, a UK-based online initiative calling for solidarity with Egyptian prisoners.
According to the initiative, around 80 detainees and over 200 of their backers are on hunger strike in Egypt to protest "repressive laws which the military regime is using to criminalize dissent," said the initiative, adding that "40,000 have been detained since July 2013, many of whom have been locked up in appalling conditions without charge or trial."
Wassim Wagdy, an activist taking part in the campaign, said the goal behind it is to "voice solidarity with Egypt," noting that the initiative was launched nearly a year and a half ago. He added that though the campaign is mainly online, it occasionally organizes events on the ground to show a public sense of solidarity with Egyptian detainees.
On 12 November, the campaign said on its
Facebook page
that over 80 journalists and media workers have signed its statement. It said in September and October that the campaign was joined by students from Cambridge, Oxford, Berlin and Athens universities.
A number of Egyptian politicians and activists had launched a campaign in February 2014, dubbed Freedom for the Brave, to press for the release of political prisoners opposed to the regime that took power following the ouster of former president Mohamed Morsy. The campaign called in September for a hunger strike in solidarity with several political activists who went on hunger strikes in detention.