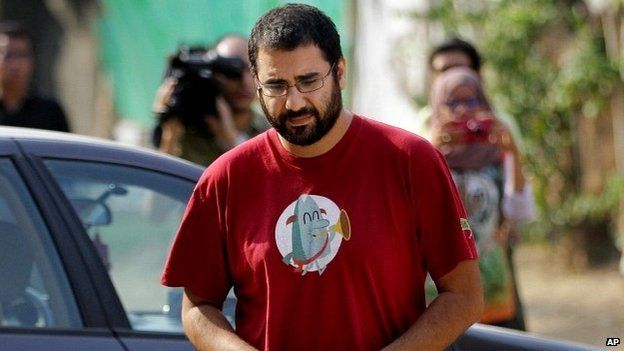 Sanaa Seif, the sister of British-Egyptian activist Alaa Abdel-Fattah, said she received a letter confirming that her brother had ended his hunger strike.
"I've broken my strike," said a message purportedly from Abdel-Fattah, posted on Sanas Seif's Twitter account.
"We just got this letter. Alaa has broken his hunger strike. I don't know what's happening inside, but our family visit is scheduled for Thursday and he's saying to bring a cake to celebrate his birthday," Sanaa Seif wrote on her Twitter account with a photo of the message.
Sanaa Seif said, on Monday, that Egyptian prison officials sent a message to her mother stating that Abdel-Fattah is alive and started drinking water again from Saturday onwards.
Seif held a press conference last week during which she said that the family did not know if Abdel-Fattah was alive.
The Egyptian authorities have repeatedly rejected calls for his release.
Abdel-Fattah was one of the leading activists in the 2011 uprising that toppled the government of late president Hosni Mubarak.
Earlier this month, Alaa escalated his 200-day hunger strike and stopped drinking water, a development that coincided with world leaders meeting in Egypt for the COP27 climate summit.