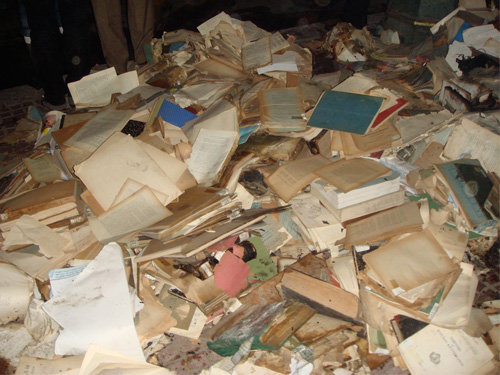 The Dr. Sultan Al-Qasimi Center of Gulf Studies in Sharjah, United Arab Emirates, has announced that it is preparing to transfer rare books and maps to Egypt. The shipment comes in response to the destruction of rare books burned in the Egyptian Scientific Institute, which was set ablaze on Saturday during recent clashes.
In a statement on Wednesday, the center said the documents were original manuscripts, many of them duplicates of documents burned in the fire that broke out in the institute.
The statement went on to say that among the books to be sent is an original copy of the book "The Description of Egypt" as well as French editions of a number of books and rare maps.
Sultan bin Mohamed al-Qasimi, the ruler of Sharja, pledged on Monday to personally contribute to the institute's restoration out of his love for and gratitude to Egypt. He also announced that he would be donating a number of copies of rare manuscripts for Egypt's national archives.
The Scientific Institute was built in 1798 on the order of Napoleon Bonaparte, who led a French campaign to invade Egypt. It is an important scientific and cultural monument, and includes many rare manuscripts, books and maps.
Translated from Al-Masry Al-Youm