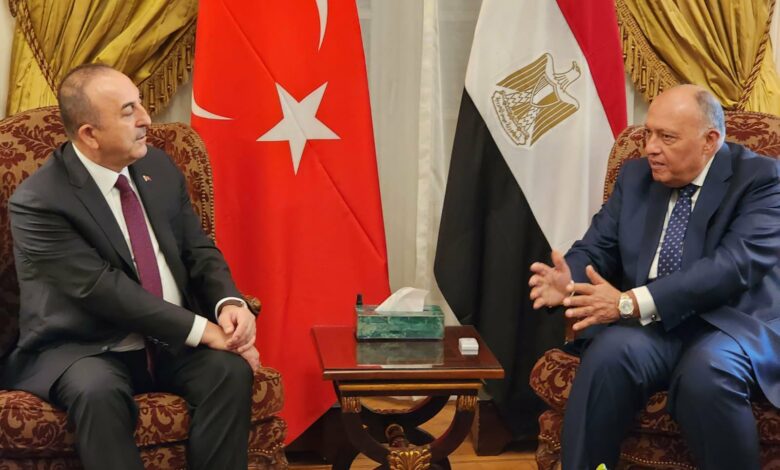 Turkey's Foreign Minister Mevlut Cavusoglu assured Egypt on Monday that the maritime jurisdiction agreement concluded between Turkey and the Tripoli government in Libya "is not against Egypt's interests," the official Turkish Anadolu news agency quoted the minister on Monday.

The Anadolu Agency reported that the Turkish minister made his statements at the end of his visit to Cairo on Saturday, following his talks with Egyptian Foreign Minister Sameh Shoukry.
Regarding Egypt's objection to Turkey in Libya, he said: "Our presence there does not pose a threat to Egypt. And this presence came at the invitation of the legitimate government at that time, and continued based on the desire of subsequent governments. We always declare that the Turkish presence in Libya does not have any negative effects on Egypt."
Cavusoglu stressed that Ankara and Cairo agreed to continue close consultation on Libya.
The Turkish foreign minister noted that Egypt has security concerns about the stability in Libya, adding Egypt will benefit from the conclusion of a maritime agreement between Ankara and Cairo in the future.
He also said that Cairo's agreement with Greece "is not against Ankara."
Cavusoglu explained "Egypt took into account Turkey's interests when it concluded maritime agreements with Greece," according to the Turkish agency.
Regarding Egypt's position on the agreement to explore for energy resources in the eastern Mediterranean, Cavusoglu said:
"This is not a problem. Every country concludes hydrocarbon agreements with another country. Egypt is currently objecting to this agreement under the pretext that the current government in Libya cannot sign agreements because its mandate has ended and it is no longer legitimate."
"Cairo did not say that the signed agreement was against it," he added.