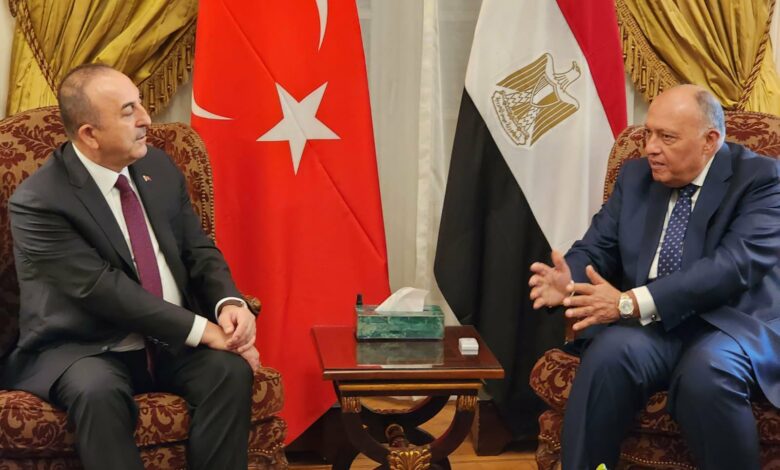 Turkish Foreign Minister Mevlut Cavusoglu thanked Egyptian Foreign Minister Sameh Shoukry for his visit to Turkey and his hope to continue exchanging visits between the two countries.
During a joint press conference with Shoukry on Saturday, Cavusoglu also expressed his thanks to Egypt for the assistance it provided to his country after the earthquake, which reflects the solidarity between the two countries.
Shoukry was one of the first officials to visit Turkey, he noted.
Cavusoglu added that Egyptian President Abdel Fattah al-Sisi took the initiative to contact Turkish President Recep Tayyip Erdogan to offer condolences, explaining that four Egyptian aid planes had arrived in Turkey.
He described relations between Turkey and Egypt as "historic" with a basis in a common culture, stressing: "This is why we want to strengthen relations between the two countries, which of course needs help and support from Presidents Abdel Fattah al-Sisi and Recep Tayyip Erdogan."
Cavusoglu announced that "Work is being done to facilitate a meeting between the presidents of the two countries, and that is why we came to Egypt to work on that and to discuss what the two countries can offer."
Both countries are determined to "work to reach what we seek," especially since relations between Egypt and Turkey are strong even in periods of stagnation.
The Turkish foreign minister said that Egypt plays a great role in several issues, including the Palestinian cause.
He stressed the great importance of strengthening relations between the two countries, and added that from now on, positive steps will be taken to achieve this.
He said that there will be meetings and consultations between ministries and state agencies, alongside local and regional cooperation.