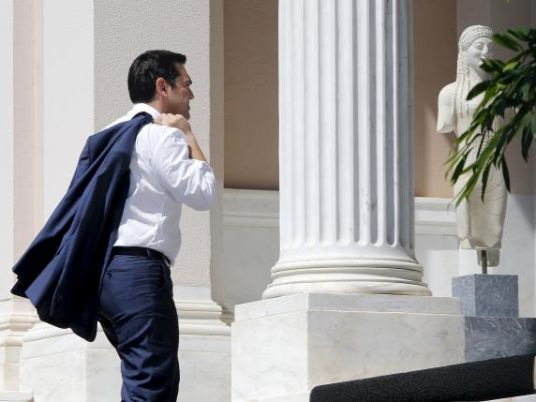 Greek Prime Minister Alexis Tsipras appointed two respected bailout negotiators to head his economic team on Tuesday, moving to assure wary European partners that the new government will not backtrack on its cash-for-reform deal.
Tsipras reappointed Euclid Tsakalotos as finance minister and made George Chouliarakis deputy finance minister.
Tsakalotos, a low-key Oxford University-trained Marxist economist, was at the finance helm when Greece and its creditors produced an 86 billion-euro loan accord on August.
Chouliarakis, who was finance minister in the caretaker government during the recent election campaign, was a senior member of the bailout negotiation team, known for his grasp of details.
The appointments, which came as Tsipras appointed a mostly unchanged new Cabinet following re-election on Sunday, come ahead of a review by lenders starting next month on progress in meeting bailout targets, recapitalising the country's banks and holding discussions that Greece wants on debt relief.
"The markets will see this positively," said Takis Zamanis, chief trader at Beta Securities in Athens. "It appeared the chemistry was right between Tsakalotos and lenders."
Tsakalotos is a stark contrast to his combative predecessor Yanis Varoufakis, who quit Tsipras's government in disagreement over the bailout in July. Varoufakis frequently riled lenders with outspoken and occasionally undiplomatic remarks, including one where he said he wore 'creditors' loathing with pride'.
Dutch-born and British-educated Tsakalotos, however, is a member of the so called '53+' faction in Tsipras' leftist Syriza party, some of whose members recently expressed concerns the party was moving away from core leftist values to hold on to power.
Double trouble
The government's two main tasks will be to ensure that the bailout given by the euro zone in exchange for deep economic reforms does not go off track, and to handle Greece's huge refugee problem.
Of the record 430,000 refugees and migrants who have made the journey across the Mediterranean to Europe so far this year, 309,000 have arrived via Greece, according to the International Organization for Migration.
Many of Greece's partners, particularly in eastern Europe, want Athens to stop allowing the refugees to pass north on a trek to Germany and other wealthy northern countries.
Tsipras appointed Yiannis Mouzalas, an active member of the Doctors of the World charity, as minister for migration within the interior ministry.
Mouzalas, who held the post in the caretaker government, has taken part in relief missions to trouble spots like Kobane in Syria.
But it is the implementation of the bailout, which was agreed after months of bitter negotiations in which Tsipras railed against austerity being imposed on Greece, that will be the government's overwhelming task.
Factions like '53+' notwithstanding, Tsipras' re-election on Sunday made his party the dominant force in Greece. His harshest hard-left rebel critics failed to make it into parliament.
"Alexis Tsipras now has the chance to correct the mistakes of his (first) term," centre-left newspaper Ta Nea said in an editorial.
Other reappointments included Nicos Kotzias as foreign minister, Panos Skourletis as energy ministry and Panos Kammenos as defence minister.
Kotzias, once a member of Greece's Communist youth, has in the past portrayed the country as a victim of foreign interests.
Kammenos is leader of the right-wing Independent Greeks, the junior party in Tsipras's coalition.
Skourletis has been criticised for suspending the permit for a disputed Canadian-run gold mine project in northern Greece in August.