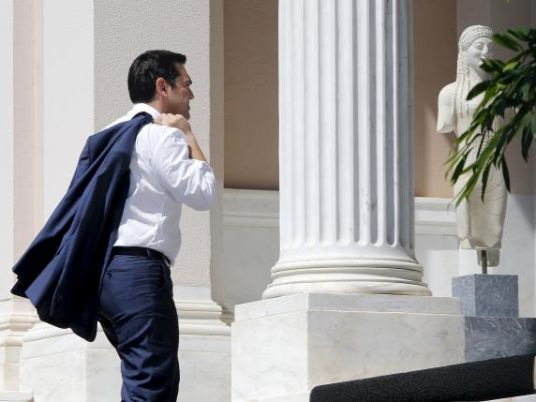 Former prime minister Alexis Tsipras promised on Sunday to fight to improve the terms ofGreece's latest bailout as he tried to shore up a rapidly collapsing lead in opinion polls, two weeks before a snap election.
In a campaign speech in the northern town of Thessaloniki, Tsipras offered no new policy ideas but pledged thousands of new jobs and an attack on corruption.
He defended his record of battling Greece's creditors in his seven months in office, even though he was eventually forced to capitulate to their demands to secure the 86 billion euro (£63 billion) rescue package, Greece's third in a protracted debt crisis that at times has threatened its future in the euro.
"The battle to improve it is far from over," Tsipras said, referring to the bailout. He said he would seek to win some form of debt relief and press Greek demands to restore collective bargaining powers for workers, a move the creditors oppose.
Tsipras resigned last month to make way for the election, hoping to secure a stronger mandate. But having started out as the clear frontrunner, his leftist Syriza party's poll lead has now all but disappeared, making for an unexpectedly close contest against the conservative New Democracy party.
The prospect of a fractured result after the Sept. 20 vote has stoked fears of yet more turmoil in a country hit by years of instability and recession, and raised the prospect of Greece having to go to the polls again.
Tsipras stormed to power in January promising voters to end austerity and redefine Greece's relationship with its international lenders – the European Commission, International Monetary Fund and European Central Bank.
But with the economy on the brink of collapse, its banks temporarily shut and the chance of a euro exit looming ever closer, he was forced to give in to the creditors' demands.
Many of Syriza's erstwhile supporters are furious, and may switch their allegiance to a hardline leftist group that split from Syriza to form its own party.
"EUROPE IS NOT THE SAME"
Tsipras said his battle with the creditors had challenged what he described as the dogma of austerity in Europe. He boasted of inflicting a "moral defeat" on Greece's biggest lender,Germany.
"Europe is not the same after the 7-month negotiation with our country, Europe was shocked by the tough battle of a determined nation," he said.
Earlier Tsipras had played down fears that the election would produce a fractured result, saying there were enough undecided voters to produce a clear winner on the day.
"There is 15-20 percent of undecided voters right now. In simple maths, this means that the party that will come first, if it doesn't secure an outright majority at the parliament, will be very close to it," Tsipras said in an interview with Skai television. "So a government will be formed."
He again ruled out forming a national unity government with New Democracy if the election proved inconclusive, even though opinion polls show most Greeks want him to do this.
"There is no room for cooperation in government because the differences in our policy programmes are very big and because we know very well that we don't share the same target," he said.
Although he was forced to back down in negotiations with the creditors, Tsipras has at least secured the prospect of some form of relief for the country's ballooning debt, although Germany has ruled out any "haircut", or reduction in the principal.
Tsipras, who never wears a tie and whose government became known for its informal style, said he would don one if he secured debt relief. Asked when this will happen, he said:
"We will have this very important development over the debt by the end of the year. We will have a difficult year but I am optimistic."
(Writing by Matthias Williams; Editing by Mark Trevelyan)