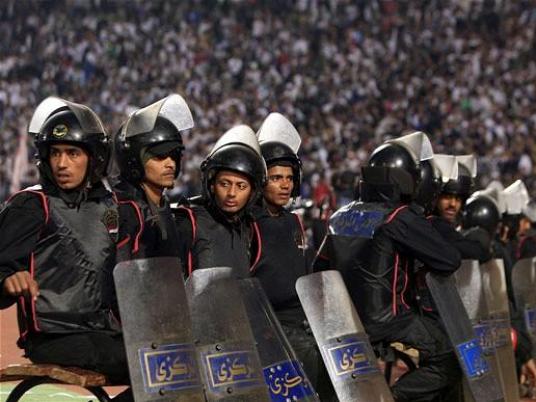 Port Said Criminal Court decided Tuesday to adjourn the trial of 75 defendants in the Port Said Stadium violence case to 5 May after a session held at the Police Academy in the neighborhood of New Cairo.
The court also ruled to include the Interior Minister, head of the National Sports Council, head of Masry sporting club and head of the National Football Association as defendants in the civil lawsuits filed by relatives of those killed and injured in the violence.
On 1 February, supporters of Port Said's home club, Masry, and Cairo's leading team, Ahly, clashed after Masry fans stormed the pitch following a rare victory. In the ensuing violence, 74 were killed and hundreds injured in one of the deadliest football-related incidents in history. Critics have accused security forces of doing little to prevent the fighting in the stadium.
The court proved the attendance of remanded defendants, 18 were in absentia while 8 others are fugitives. The prosecution presented the defendants with charges.
The referral was cited by deputy chief of prosecution at the Attorney General's technical office, Mahmoud Hefny.
The prosecutor held the police and the officials of Masry football club responsible for the incident by allowing entry to more Masry fans than what was agreed on without searching them, which helped them use knives and other tools in the crime, and by letting them come near the fans of the Ahly Club.
The defendants interrupted the session more than once, chanting against the prosecution, and called for revenge for the victims.
The families of victims were infuriated and some of them sobbed heavily. A father of one of the victims interrupted the prosecution and said, "We want justice. Those are the ones who killed my son."
The defendants pleaded innocent to the crimes attributed to them. The families of the victims engaged in a verbal crossfire with defendants, who blamed security forces for the massacre. The defendants also chanted "We want to die like them, or we get their rights." The families of the victims dubbed them liars.
The prosecution's representative slammed accusations by the defendants of manipulation, saying: "the prosecution does not accept accusations or references to it with such crimes, because it is an honorable litigant in the case and used its legal right to investigate the case."
Translated from Al-Masry Al-Youm