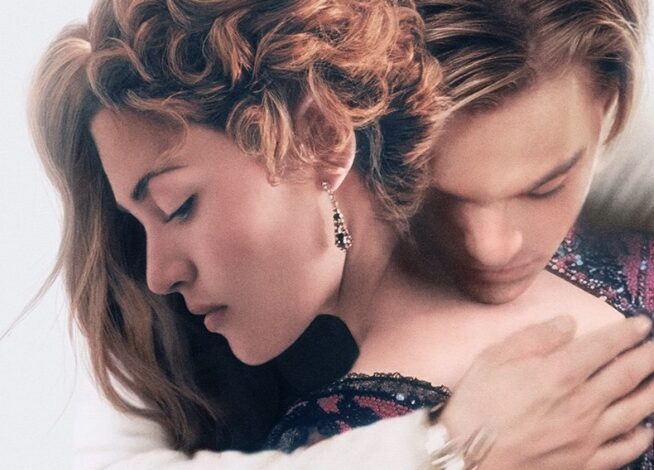 Through 40 screenings, on Wednesday, February 8, the legendary movie "Titanic" will be shown in 14 theaters in Egypt, in celebration of the 25th anniversary.
The movie will be re-released in new 3D and 4K copies in a more visually attractive format. 
The movie will be also shown, Thursday and Friday, in various parts of the world, especially after Paramount released a new advertisement for the film.
Titanic was directed by James Cameron, and achieved nearly $ 2 billion in revenues at its premiere.
"When we made the Titanic movie 25 years ago, we tried to create a timeless love story, and with the celebration of the film, it returns to the cinema again with modern technologies and a distinctive Dolby sound, Cameron said.
Even if you watched the movie before, this version will make you feel as if you are watching the movie for the first time, the way you should have seen it on the big screen at the time of its premiere", he added.
This is not the first time that the film has been shown in cinema halls after its original release.
In 2012, the romantic film was re-released for the second time, and it made $67 million at the box office in its opening week.
In 2017, it was shown to celebrate its twentieth anniversary, and the film won 11 Oscars.
It also holds the record for the highest-grossing film over the years.
The film is shown in Cairo at Maadi Galaxy Cinema, Sun City VIP, IMAX Plaza, Arkan VIP, Point 90, Zamalek, City Stars, Golden Stars VIP, Cairo Festival City, Vox Mall of Egypt, Galaxy Mall of Arabia, Al Masa and Madinaty, as well as at Al Karawan Cinema in Port Said.
The film revolves around a giant English passenger steamship, which is the largest passenger steamship in the world built at that time.
On its first trip on April 10, 1912 from London to New York across the Atlantic Ocean, four days after its launch on April 14, 1912, the steamer collided with an iceberg before midnight, which led to its complete demise and eventual sinking two hours and forty minutes after collision in the early hours of April 15, 1912.
There were 2,223 passengers on board, 706 of whom survived, while 1,517 people died.
The film addressed the catastrophe of the sinking of the giant ship Titanic on its first voyage across the Atlantic Ocean and presented a love story that brought together Rose, who belonged to the wealthy class, and Jack who belonged to the working class.
Jack had previously won two tickets on board the giant ship on its first and last voyage in 1912.
Titanic stars Leonardo DiCaprio, Kate Winslet, Billy Zane, Kathy Bates, Frances Fisher, Gloria Stuart, Bernard Hill, Jonathan Hyde, Victor Garber, Bill Paxton, and other stars immortalized in the film and in the memory of the passengers.