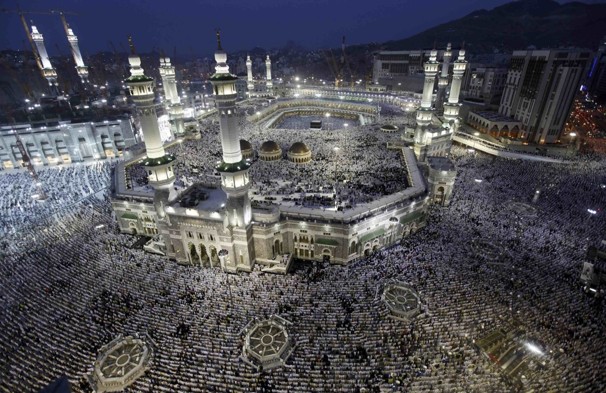 Syrian pilgrims raised rebel flags as the hajj reached its climax near Mecca on Thursday, despite a call from Saudi Arabia's top cleric for the annual Islamic pilgrimage to be free from nationalist sentiment and Muslim infighting.
This year's hajj takes place against a backdrop of divisions among Muslims, as Shia Iran and Sunni countries like Saudi Arabia and Turkey back opposing sides in Syria's civil war.
"My parents asked me to pray for God to bring peace, stability and safety to Syria," said Musa al-Ali, 38, a Syrian man living in Riyadh. "I hope death is brought to a halt in Syria."
Nearly three million Muslims stood at Mount Arafat in western Saudi Arabia on Thursday in the most important ritual of the hajj. Most had spent the night at nearby Mina.
The message of the Grand Mufti, the most senior Saudi cleric, echoed comments by Iran's Supreme Leader Ayatollah Ali Khamenei who urged Islamic solidarity during the pilgrimage.
In 1987, hundreds of Iranian pilgrims died in clashes with Saudi security forces after protests.
"We want the call of the faithful, not a factional one. Avoid raising national and factional slogans," the Grand Mufti, Sheikh Abdulaziz Aal al-Sheikh said in his sermon in the Grand Mosque.
He said Muslim leaders were responsible for the well-being of their people and should resolve problems through religious teaching, not violence.
In his hajj message, Ayatollah Khamenei warned that bloodshed in Syria could spill across borders in the Middle East. Iran accuses Turkey and Gulf Arab states of fueling the Syrian conflict by supporting rebels.
Night prayers
The hajj pilgrimage is one of the faith's so-called five pillars and a religious duty for all Muslims that must be carried out at least once in their lifetime if they are capable of it.
Saudi Arabia is the birthplace of Islam and its ruling monarchy derives much of its legitimacy from its guardianship of Islam's holiest sites. Saudi Arabia's king is formally titled Custodian of the Two Holy Mosques.
Thousands of tents were pitched alongside the main roads to Mount Arafat. As the sun rose, pilgrims were still streaming in and others who had already secured their spot were sleeping in tents or on slabs of rock.
"It's impressive to see the amount of people from all backgrounds asking Allah for forgiveness," said Babacar Diagne, 47, a Canadian originally from Senegal in West Africa. He looked down the mountain towards a sea of people all dressed in simple white robes.
After dusk, pilgrims will head to the plain of Muzdalifah to spend the evening there in preparation for the ritual stoning of the devil in Jamarat.
Stampede risks
Saudi authorities have spent billions of dollars in recent years improving hajj infrastructure to avoid a repeat of accidents which have killed hundreds of people. But with nearly three million Muslim pilgrims descending on Mecca, disaster is a constant fear.
The last big accident was a stampede in 2006 at Jamarat causing 380 deaths. Two other stampedes at the same place in 1994 and 2004 killed more than 500. In other years, the pilgrimage was marred by deadly fires in the massive camp city.
Hundreds of cameras and other monitoring devices are fixed around the main sites of the hajj, including the Grand Mosque, Mount Arafat and Jamarat Bridge, to monitor crowd levels.
"We're using technology that allows us to take the right decisions at the right time," said Mansour al-Turki, the Saudi Interior Ministry spokesperson.
"If we notice that the number of pilgrims is increasing in one area we can take preventive measures so that the intensity doesn't grow in a way that harms the pilgrims."
At Jamarat, the authorities built extensive new facilities to ease the flow of pilgrims seeking to hurl pebbles at three pillars representing the devil.
They replaced the pillars with long walls and built a multistory bridge around them, creating far more space for the pilgrims to stand on the bridge levels and perform the rite.