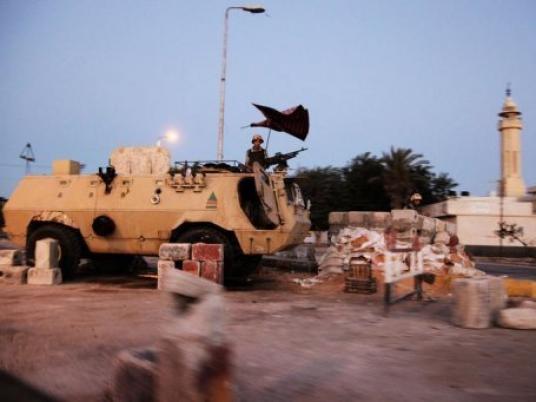 The district attorney in North Sinai on Monday ordered two who are suspected of assaulting a Multinational Force and Observers camp be detained for four days pending investigations.
The state-run MENA news agency reported that a joint force of police and army arrested a man and his son early Monday morning. The two were reported to have confessed to attacking the camp, located in the Jura area east of Arish.
According to MENA, early investigations found that over 100 people attacked the camp, using four-wheeled vehicles.
Protesters had set fire to a security tower belonging to the Multinational Force and Observers in North Sinai on Friday and raised a black flag with the inscription "No god but God," in what may have been opposition to an anti-Islam film produced in the US.
The incident was preceded by clashes between protesters and Multinational Force troops, with both sides exchanging fire while protesters demanded the force's expulsion.
The German news agency DPA reported Saturday that the Armed Forces, backed by about 50 tanks and armored vehicles, had to intervene to regain control of the area surrounding the camp.
One of the camp workers told the agency that the clashes resulted in the injury of four Fijian members of the force and the burning of a fire truck. The injured Fijian members were given first aid inside the camp.
The Multinational Force and Observers in Sinai is mandated with observing the 1979 peace treaty between Egypt and Israel. The force includes members from 11 countries, including the US. In May, ten peacekeepers in the force were kidnapped by Bedouin tribesmen to pressure the government to release their detained relatives.
Sinai has been the site of several armed attacks, allegedly perpetrated by Islamist groups. Last month, an attack on a checkpoint killed 16 Egyptian soldiers.
Edited translation from MENA