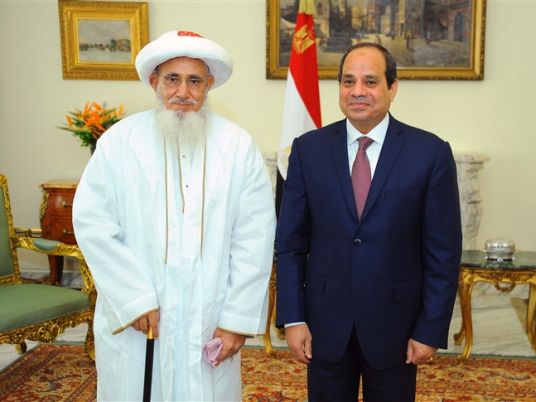 Mufaddal Saifuddin, spiritual head of the Dawoodi Bohra Muslim community, made a LE10 million donation to the Tahya Masr Fund on Tuesday during his meeting with President Abdel Fattah al-Sisi in Cairo.
Saifuddin, who heads the Dawoodi Bohra sect within the Ismaili branch of Shia Islam, made the donation to the fund as part of a wider effort to boost relations between the community and the Egyptian government. Sisi established the Tahyra Masr Fund as a means of helping to fund Egypt's social and economic recovery.
Saifuddin was accompanied by his brother Qa'ed Gawhar Ezz Eddine, his sons Gaafar al-Sadeq and Hassan Saifuddin, his advisor Mohamed Hassan Ali, and Bokra representative in Cairo Mufaddal Hassan.
Sisi and the religious leader discussed matters relating to Egypt's economic, social, cultural and spiritual development. Sisi welcomed Saifuddin and praised efforts made by the Dawoodi Bohra community to renovate historical mosques in Egypt, including the Al-Hakem be Amrellah, Al-Giuoshy and Al-Lo'lo'a mosques, according to Presidential Spokesperson Alaa Youssef.
Sisi expressed his appreciation for the sect's work in charitable activities, such as building schools and improving living conditions in slums in India.
Meanwhile, Saifuddin praised progress on safety and security in Egypt over the past two years, according to Youssef. He also called for religious freedom in Egypt, based on a stable atmosphere that allows everyone to practise their religious rituals freely.
Saifuddin expressed his community's plans to invest in Egypt and its hopes that major economic projects will succeed. He also expressed his enthusiasm for projects on infrastructure, electricity and road building projects that help improve daily life.
Edited translation from Al-Masry Al-Youm