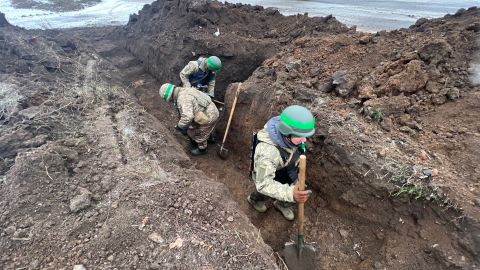 Dug in amid the rolling hills west of Bakhmut, the tanks of the Ukrainian army's 28th Mechanized Brigade are helping to hold the line against a growing Russian offensive.
They are battered and bruised by nearly a year of combat, but despite their age they are cherished by their crews.
The young tank commander, who goes by the call sign David, sees his unit's role as crucial in holding the line, and preventing a Russian advance towards the straggling industrial town of Konstantinyvka.
"We just work against them. If we don't, they will come closer and we will lose our houses and families. We stand here to let people peacefully live in their houses. If the Russians come to Konstantinyvka — what will happen? They will destroy it, not leaving a stone standing."
The 28th has had a long war already. It was in the south helping to liberate Kherson before being sent half-way across the country. But it prides itself on one of the lowest casualty rates among Ukrainian brigades.
As David talks, the air is split by the sound of outgoing fire from tanks and artillery. A howitzer is in action on the other side of the hill. Their targets are positions held by the Russian mercenary group Wagner south of Bakhmut, several miles away.
But the 28th uses its 125-millimeter shells sparingly. "We have problems with ammunition, we are running low on it," David says. "But that's the only problem we have. We get enough spare parts, our commanders work all the time to sustain and repair the tanks."
Sometimes, all it needs is the appearance of a tank in forward positions to scatter Wagner fighters, who are mostly lightly-armed infantry.
"When we come and fire, the enemy goes silent for two to three days," David says. "They won't fire at our guys in the trenches. If our tanks and artillery don't fire, our infantry will suffer."