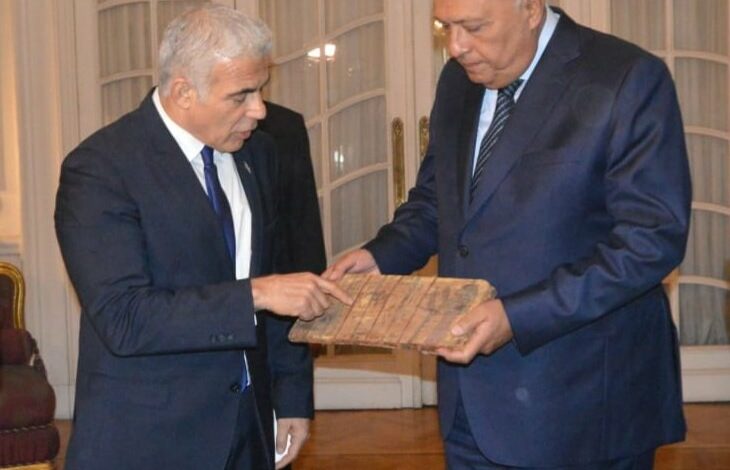 Egyptian President Abdel Fattah al-Sisi received Israeli Foreign Minister Yair Lapid at the Ettihadeya Presidential Palace in Cairo on Thursday, a statement by the Egyptian presidential spokesperson said.
Sisi received Lapid, in the presence of Foreign Minister Sameh Shoukry, head of Egyptian General Intelligence Abbas Kamel well as officials in the Israeli Foreign Ministry, and Israel's ambassador to Cairo, Amira Oron.
The statement added that the meeting addressed aspects of bilateral cooperation between the two countries in various fields, in addition to issues of common interest on the regional and international arenas, especially the Palestinian issue.
Sisi talked about Egypt's efforts to rebuild the Gaza Strip, and continued efforts to "prevent the outbreak of tension between the Palestinian and Israeli sides," according to the statement.
In a related context, the Egyptian Foreign Ministry spokesperson Ahmed Hafez, published video clips of the moment Lapid handed over to Shoukry Egyptian artifacts that had been smuggled to Israel.
Hafez commented on the Egyptian Foreign Ministry Spokesperson's Twitter official account saying that the foreign ministers of Egypt and Israel are witnessing Egypt's recovery of 95 smuggled Egyptian artifacts that were seized by the Israeli authorities.
This was followed by a session of official talks between the foreign ministers of Egypt and Israel, in the presence of the delegations of the two countries.