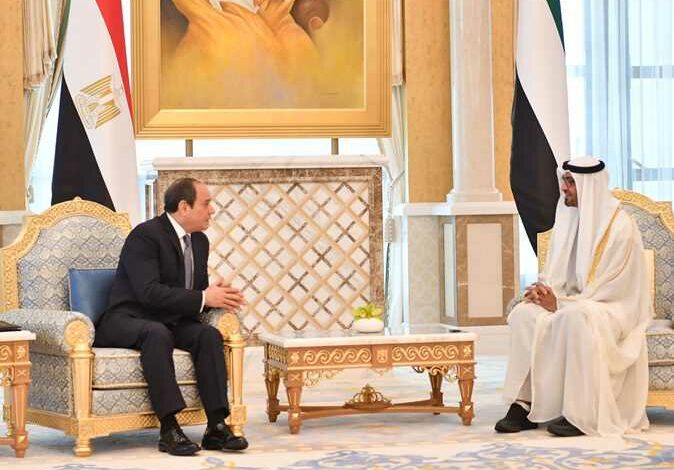 President Abdel Fattah al-Sisi arrived Wednesday morning in the UAE to participate in the Abu Dhabi Summit which will bring together the leaders of Egypt, Jordan and the nations making up the Gulf Cooperation Council (GCC).
Sisi's involvement in the Abu Dhabi summit comes out of Egypt's desire to strengthen all relations with the countries participating in the summit, as well as cooperating to strengthen joint action mechanisms for the benefit of the Arab world, said the official spokesperson for the Egyptian Presidency Bassam Rady.
The summit aims to coordinate on achieving regional and international security and stability, he added.
Strong bonds between Egypt and the UAE

In the fiscal year 2021-2022, the UAE ranked first among the countries sending foreign direct investment flows to Egypt, with an estimated share of 29 percent of the total foreign direct investment flowing to Egypt during that period.
Recent strategic Emirati projects in Egypt was reflected in the rise in the total Emirati direct investments which recorded about US$4.6 billion during the first nine months of the year, Prime Minister Mostafa Madbouly said, in his speech during the "Egypt and the UAE, One Heart" celebration on the occasion of the 50th anniversary of Egyptian-UAE relations.
Madbouly stressed the keenness of Egypt and the UAE to enhance the flow of trade and investments between the two countries, reflected in concluding a number of agreements related to the promotion and protection of investment.
The Egyptian workforce has been a major source of economic development in the UAE for decades within a framework of strong cooperative ties between both nations first established by the late Sheikh Zayed bin Sultan Al Nahyan, the founder of the UAE.