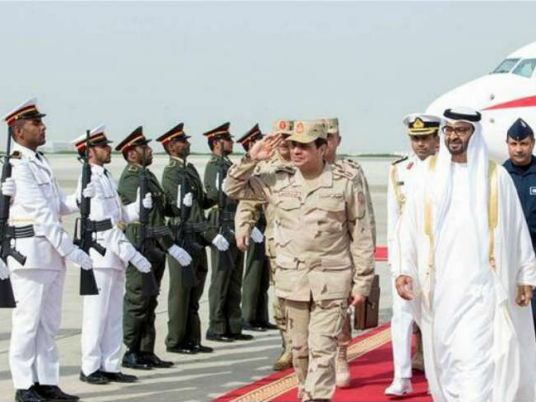 In the fiscal year 2021-2022, the UAE ranked first among the countries sending foreign direct investment flows to Egypt, with an estimated share of 29 percent of the total foreign direct investment flowing to Egypt during that period.
72 percent of the total Arab foreign direct investment flowing to Egypt during the same period, Prime Minister Mostafa Madbouly said on Wednesday.
Recent strategic Emirati projects in Egypt was reflected in the rise in the total Emirati direct investments which recorded about US$4.6 billion during the first nine months of the year, he said.
Madbouly said, in his speech during the "Egypt and the UAE, One Heart" celebration on the occasion of the 50th anniversary of Egyptian-UAE relations.
The features of the strategic relations between Egypt and the UAE have crystallized in recent years to represent an impressive model for Arab relations capable of facing challenges in various fields through joint action and mutual support during crises.
The UAE has taken proactive steps to provide support to various Arab countries through successive political and economic crises, the latest of which was the coronavirus pandemic, which struck a strong blow to the global economy, followed by the outbreak of the Russian-Ukrainian war, which caused a wave of economic turmoil and geopolitical changes in the world and multiplied the challenges related to providing the necessary funding for health and social care programs and various development programs.
Madbouly added, stressing that global challenges required effective partnerships, especially between brotherly Arab countries.
Madbouly praised the size of the investment, commercial and industrial partnerships between Egypt and the UAE.
The increase of which in recent years reflected positively on the volume of Emirati investments in Egypt and the number of Emirati companies operating in the Egyptian market.
Madbouly stressed the keenness of Egypt and the UAE to establish pillars that would enhance the flow of trade and investments between the two countries, which was reflected in concluding a number of agreements related to the promotion and protection of investment.
The cancellation of double taxation in order to encourage investment, increasing job opportunities, and enhancing trade exchange and economic cooperation between the two countries.
The Egyptian workforce has been a major source of economic development in the UAE for decades, within the framework of cooperation and brotherly relations that unite the two countries, which were established by the late Sheikh Zayed bin Sultan Al Nahyan, founder of the UAE.