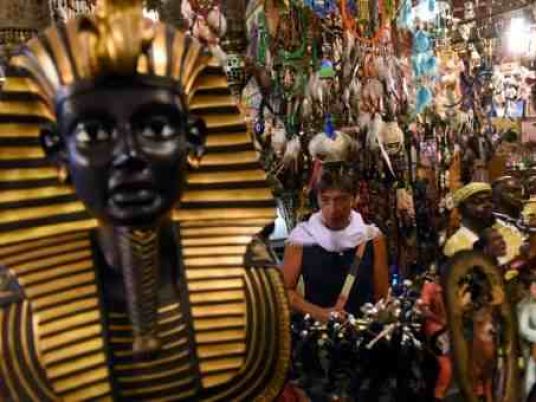 Usually buzzing with foreigners on holiday, Sharm el-Sheikh's tourist nightspots have been deserted after thousands left the Egyptian resort following the crash of a Russian airliner.
Only two weeks ago, popular Sharm areas such as the Old Market, Naama Bay and Soho Square were teeming after dark, but now only a few holidaymakers can be seen once the sun sets.
"Last month, you couldn't walk here. It was packed with people," Essam Shawki, manager of an open air restaurant at Naama Bay, told AFP.
"Today the street is empty. I've served only four customers in the last six hours."
Thousands of Russians and Britons have been repatriated from Sharm el-Sheikh after Moscow stopped all flights to Egypt and Britain halted air travel to the resort as suspicions grew that a bomb downed the Russian aircraft.
All 224 people on board the Airbus A321, mostly Russians, were killed when the Saint Petersburg-bound flight crashed over the Sinai peninsula on October 31, minutes after taking off from Sharm el-Sheikh.
The Islamic State group's branch in the Sinai has claimed responsibility, but Egyptian officials insist there is no conclusive evidence yet of an attack on the plane.
The streets of Naama Bay are brightly lit and loud music blares out from every restaurant.
Jewellery shops, leather boutiques and cafes line both sides of the area's main thoroughfare, but there are no customers in sight.
Staff wait for hours outside restaurants for customers, without any luck. At some times, the waiters and shopkeepers outnumber the tourists.
Sharm el-Sheikh's Old Market — a favourite hangout for tourists — is nearly empty, with shopkeepers complaining of a sharp decline in sales.
Fears for future
Foreign holidaymakers can be spotted at Soho Square, with groups of British, Russian and Italian tourists strolling through the shopping and entertainment venue.
But shopkeepers say it is only busy two nights a week, on Tuesdays and Saturdays, when tourists are ferried to the area in buses from across the resort.
"You see tourists tonight, but come tomorrow and there won't be many," said Hossam Fares, whose shop sells souvenirs.
The square's "Ice Bar", a popular venue with Britons where everything is made from blocks of ice including the glasses, was almost empty late Tuesday.
And while some tourists may be visiting his shop, Fares said they are not making any purchases.
"They're not buying because they can't carry these items."
Some tourists may be afraid of losing items because of new security restrictions on luggage imposed after the crash.
British and Russian passengers returning home from the resort are allowed to carry only hand luggage, forced to leave their hold bags behind to be transported separately.
Fares said business had been brisk in October, with sales of about LE70,000 ($8,700/8,100 euros).
"But after the plane crash, I am barely making 300 pounds a day. I won't be able to pay even the monthly rent for this shop."
Several tourists told AFP they were sympathetic and feared that many people working in the resort could lose their jobs.
"It gives me goosebumps, particularly because we are responsible for it too," said Dianne Lord, a Briton, who was scheduled to leave Sharm on Tuesday but was stranded in the resort.
Like some other British tourists, she said Britain had been "hasty" in ordering flight restrictions.
The full impact of the plane crash would be felt during Christmas, the peak tourist season, said Jacques Peter, general manager of the Savoy group of hotels, which operates Soho Square.
"Christmas will be quiet this year," Peter said, adding that earnings generated at Soho Square had already dropped by 50 percent.