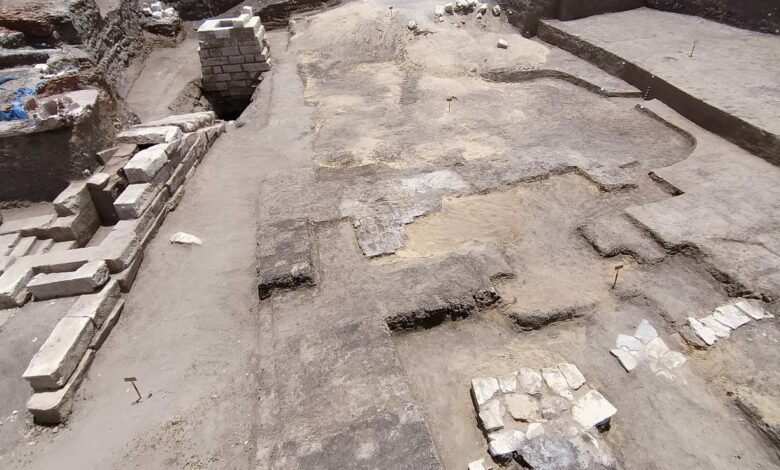 The Egyptian archaeological mission of the Supreme Council of Antiquities working at the Temple of Tel al-Fara'in (Bhutto) in the Kafr el-Sheikh Governorate, excavated the remains of a pillared hall, the Ministry of Tourism and Antiquities announced in a statement.
The discovery is an authentic and important part of the remains of the Bhutto Temple, and an important scientific and archaeological addition.
The architectural planning of the temples area in Bhutto city extends over an area of ​​11 acres, Mustafa Waziri, Secretary-General of the Supreme Council of Antiquities, said.
The city is surrounded by a huge wall of mud bricks that was built in the Modern Era and was elevated in the Sawy era.
The remains of the pillars hall discovered may date back to the Sawy era: where it is believed that a number of religious pottery vessels dating back to this era were discovered.
This is in addition to stone pieces decorated with inscriptions with scenes and friezes dating back to the Sawy era, Ayman Ashmawy, Head of the Egyptian Antiquities Sector at the Supreme Council of Antiquities, said.
He added that the remains of the hall are located to the southwestern end of the temple, while the area that has been discovered so far is approximately (6.5 m x 4.5 m) and includes the remains of three columns, all on one north-south axis.
These are mostly comprising of columns of the so-called papyrus style, which is the symbol of Lower Egypt and is associated with the goddess "Wajit", the lady of the Bhutto Temple.
The mission also uncovered a limestone panel representing a deity with a bird's head topped by a white crown surrounded by two feathers.
This could be possibly representing the goddess "Nakhbet" or the goddess "Mutt", in addition to uncovering a small stone cabin,  Qutb Fawzy, head of the Central Department of Lower Egypt, stated.
They were made of limestone at a high level from the floor of the temple and were protected by thick mud-brick walls.
Offering vessels were found next to it, built to preserve the small statues dedicated to the temple, he added.
The mission is continuing its excavations at the site, hoping to reveal more secrets of this region.
There are many secrets of the ancient Egyptian civilization, Hossam Ghoneim, Director General of Kafr el-Sheikh Antiquities and head of the archaeological mission, said.
The mission uncovered its last excavation season at the site, a huge stone building, a number of ritual tools, and an impressive collection of depicted scenes on ivory and some important golden finds and paintings engraved with hieroglyphs.