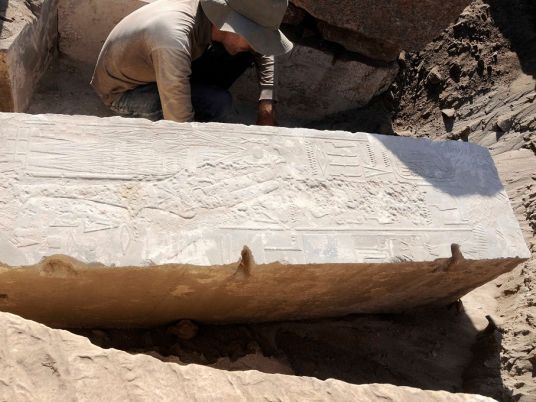 Stone blocks showing inscriptions of Queen Hatshepsut in the form of a woman — as opposed to the usual male form — have been discovered on Elephantine Island in Aswan, Mahmoud Afifi, head of the Egyptian Antiquities sector, announced on Wednesday.
The stone blocks were orginally part of a temple dedicated to the god Khnum, who was believed to be the source of the River Nile. The temple would have been used as a resting place for a sacred boat used in religious processions.
According to Afifi, the discovery of the blocks was made by the German archaeological mission, led by professor Felix Arnold.
Queen Hatshepsut, who was usually represented as a man on Egyptian antiquities, is shown on the stone blocks as a woman. The fact that she is depicted in female form highlights the importance of the discovery and sheds light on the early years of Hatshepsut's rule, said Afifi.
The discovery reveals information about the religious beliefs that prevailed on Elephantine Island under Hatshepsut, Afifi said, adding that more research is needed to clear up ambiguities regarding the queen's life, especially in the early years of her rule.
Edited translation from Al-Masry Al-Youm