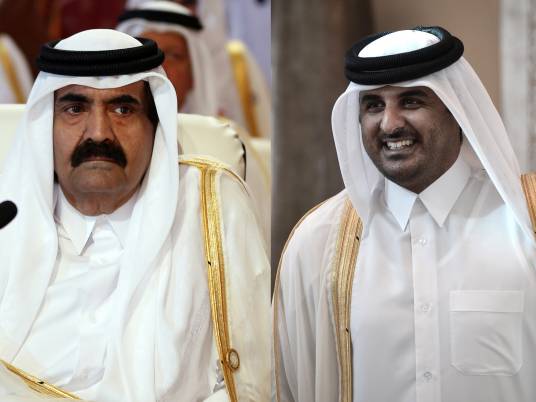 Qatari authorities had assured Muslim Brotherhood figures based at the Gulf kingdom that they would not be deported as reportedly requested by other Gulf nations, a source from the group, also based in Qatar, has told Al-Masry Al-Youm.
The source said a senior Qatari official had told group leaders there were "no worries concerning their existence there".
A recent meeting by Qatar with other member states at the Gulf Cooperation Council had reportedly hashed out a solution or the GCC crisis which surfaced when Saudi Arabia and United Arab Emirates withdrew ambassadors from Doha early March, citing Qatar's intervention in their domestic affairs.
Qatar hosts a number of Saudi and Muslim Brotherhood activists opposed to their regimes at home. Qatari al-Jazeera Mubasher Misr channel is banned in Egypt and Saudi Arabia for materials critical of both regimes.
The recent meeting last Thursday reportedly discussed requests by Saudis and the UAE to deport Muslim Brotherhood figures. Both kingdoms are allies with the Egyptian interim authorities that had ousted the Brotherhood regime last year.
But the Brotherhood source said Qatar rejected the requests, only vowing to expel Gulf opposition figures, and to tune down its media discourse to set the atmosphere for political reconciliation in Egypt.
"UAE and Saudi Arabia had asked the Qatari side to strip nationality from some figures, most notably Sheikh Yusuf al-Qaradawi, chairman of the International Union of Muslim Scholars, and Saudi intellectual Ahmed al-Ahmari, but Qatar refused", according to the source.
His account was supported by Ihab Sheha, chairman of the Salafi Asala Party and a leader at the Brotherhood-led National Alliance to Support Legitimacy, who said that the GCC agreement only applies to Saudi opposition activists, denying rumors that Qaradawi would be deported to Tunisia.
German news agency DPA had quoted sources at Qatar's royal court as saying that authorities asked Brotherhood figures based on its soil to avoid media appearances as step towards their deportation to other states like Turkey and Sudan.
Edited translation from Al-Masry Al-Youm