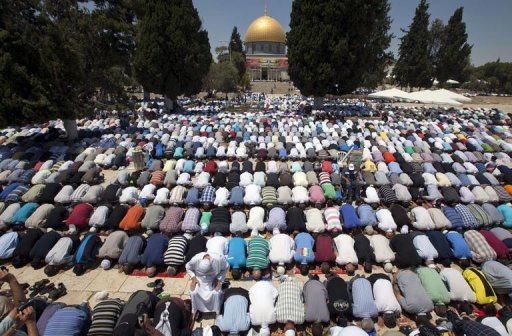 About 50 Shi'ite Muslim pilgrims settle down to chant and prostrate themselves in worship near an ancient tomb.
Not an unusual scene in the Middle East, but this shrine is located on the grounds of an Israeli hospital known mainly for treating the casualties of conflict in the nearby Gaza Strip.
The Barzilai Medical Centre in the coastal town of Ashkelon is home to a tomb where, in the view of some Shi'ite Muslims, the head of Hussein ibn Ali, grandson of the Prophet Mohammed, lay interred for centuries following his death in battle.
"We pray, first of all, to respect the head of Hussein because he was martyred," the worshippers' leader, Sheikh Moiz Tarmal, told Reuters. "And we believe that if we pray here, God will listen to you."
The slaying of Hussein in the seventh century Battle of Karbala fuelled the split between Sunni and Shi'ite Muslims that has recently erupted with renewed ferocity in conflicts in Iraq and Syria.
Many Shi'ites believe all of Hussein's body was buried near where he died at Karbala in present-day Iraq. Others hold that his head was hidden by Sunnis in Ashkelon in the 10th century before later being spirited away to its final resting place in Egypt for safety as Crusaders invaded the Holy Land.
Among the latter are the Dawoodi Bohra, a Shi'ite sect with around a million adherents worldwide. Its members come annually on pilgrimage to the ornate marble enclosure marking the tomb on a grassy hillock within the Barzilai campus.
Moshe Hananel, an Israeli scholar who helps arrange the Barzilai visits, said some of the Shi'ite pilgrims who flock to the hospital come from countries that do not recognise Israel.
"Their entry is approved in advance," he said, declining to name specific countries due to the political sensitivities.
Militant wings of both Sunni and Shi'ite Islam see a common foe in Israel. Shi'ite Iran backs Hamas, the Sunni Muslim faction that runs the Palestinian Gaza Strip.
"This is one of the absurdities of the Middle East. Here we have a sacred place for the Muslims, for the Shia Muslims, and on the other hand 12 km (7 miles) south of here we have other Muslims that shoot rockets at us," said the hospital's deputy director, Dr. Ron Lobel.
During last year's Gaza war, Israel's Iron Dome air defence system intercepted two Hamas rockets over Barzilai, he said.
Tarmal saw divine intervention in the hospital being spared.
"We believe it is a holy place," he said. "Many rockets do come into Ashkelon, but that place has always been safe at the end, so we believe it is spiritual."