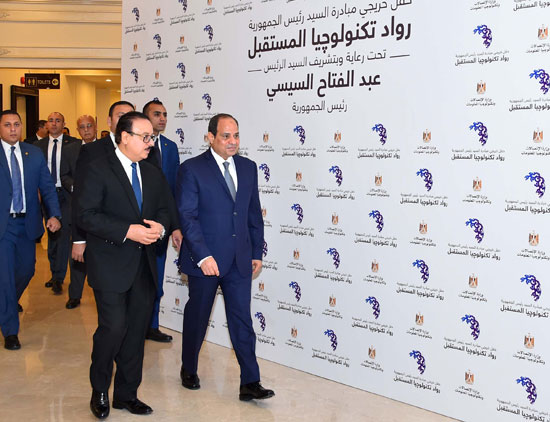 President Abdel-Fattah al-Sisi decided to increase the funds allocated for the Ministry of Telecommunications and the armed forces' programs by LE 400 million with the purpose of providing advanced training on the latest technologies for entrepreneurs.
Egypt is filled with qualified young men whom the country will provide training and rehabilitation programs to assume a leading position, President Sisi said, during a ceremony for the presidential Initiative titled Pioneer of Future Technology at Cairo International Convention Centre on Sunday.
President Sisi added that the country will open three technological parks in the Upper Egypt after four previously established technological parks acquired high rates of turnout among youth.
He also directed media outlets to broadcast and publish success stories of young men to spread an atmosphere of hope and confidence in Egyptian society.
President Sisi asked the government to form the committee which will select the outstanding young men and set the training programs to qualify them.
Before the ceremony started, President Sisi heard a brief on the school students' inventions and viewed a live broadcast of inaugurating an invention complex in the technological park in Assiut al-Gadeda governorate.
President Sisi then viewed a presentation introduced by children trainees in the new technological park in Burg al-Arab as well as a presentation by a young woman participating in the She is an entrepreneur initiative in the Smart Village.