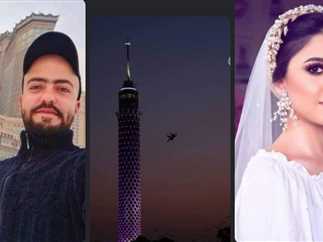 The Public Prosecution revealed the details of the investigations with  suspect, Mohamed Adel, a student in the third year at the Faculty of Arts at Mansoura University, over the murder of his colleague, Naira Ashraf, a student at same school.
Adel slaughtered Ashraf at the university gates on Monday morning. The suspect admitted during interrogation that he had committed the crime and he talked the prosecution through how the crime scene unfolded.
The Public Prosecution decided this morning, Tuesday, to detain the suspect, Adel, for 4 days, pending investigations.
It added in a statement: "the Public Prosecution listened to testimonies, enjoyed 20 witnesses, including the victim's parents and her sister, who confirmed – and one of the university students – the constant harassment of the accused to the victim as a result of the failure of their relationship and her rejection of his marriage proposal."
The deceased girls family held customary sessions and reported the suspect to the police two ago months and had pleaded to the accused not to harm them.
Thirteen witnesses, students and employees of the university and its vicinity, also confirmed that they saw the accused, when he committed the crime, while they were in the vicinity of the scene of the incident.
It added: "the Public Prosecution interrogated the suspect regarding the accusations leveled against him, and he confessed to having committed the crime of premeditated murder of the victim due to the differences between them and her refusal to him.
He explained in the details of his confession how he planned to commit and execute the crime."
The suspect, a student in the third year at the Faculty of Arts, Mansoura University, killed his colleague, Ashraf, a student in the same year because of "sentimental differences."
He added that he was insisting on marrying her, but she refused and blocked him on social media.
In a related context, Naira's family arrived from Mahalla al-Kubra, and attended the prosecution's investigations, and then received the body.
University response
For its part, Mansoura University announced that this incident took place outside the university walls near one of the gates, and the assailant was immediately arrested by the police forces in front of the university gate after being detained by passersby and security.
The statement added that the university "calls upon the media and social media sites to be accurate in what they publish about the incident so as not to cause panic among the students and their families."
The beginning
Mansoura University witnessed a terrifying incident, where the students of Mansoura University were shocked by a the suspect carrying a knife, and slaughtering his colleague in front of the Faculty of Arts, Mansoura University.
Eyewitnesses reported that the young man stabbed the lady, and while they tried to catch him, he continued to slaughter her by striking here to her neck until he was controlled by the people.
The female student was on her way to the bus stop to Mahalla, where she lives.